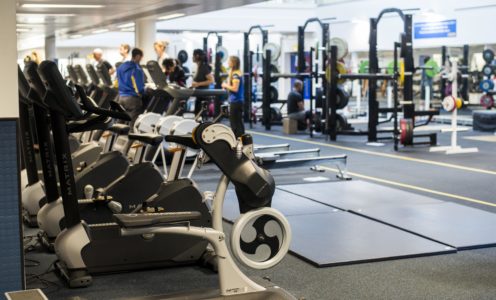 From identifying a fitness goal to achieving her target and more, Carrie Fletcher's experiences in the Team Bath Gym are a motivational example of how New Year's Resolutions can have a profound and positive impact on their health and lifestyle.
At the start of 2017, Carrie was using two crutches after a cycling accident but such is the improvement in her mobility and health – both physically and mentally – after working with personal trainer Sandra Smith and physio Joni Anderson that she is planning to compete in super-sprint triathlons during 2018.
Here Carrie shares her story – if it inspires you to get active, please click here to see how we can help you on your fitness journey during the year ahead.
As we go into 2018 inevitably there is an element of self-reflection; and I am proud to say that I barely recognise myself. It may be the loss of 25Kg and 27% body fat; it could be the improvements in my fitness levels, my heart health, my mental health and my self confidence:  Any and all of these could be seen as a measure of success, and in all of these have Team Bath played a part.

My personal journey has been even more profound. When I joined the gym I had been using two crutches for six years after undergoing spinal surgery as a result of a cycling accident. I read that para-athletes had trained at Team Bath and I thought that maybe it was possible that they would work with me.

My personal goal was simply to find a way to find a better way to manage my pain but Joni, the physio, told me I was aiming too low – she encouraged me to exercise not just within in the limits of my disability but to also challenge them. 

Team Bath introduced me to an amazing and inspirational trainer,  Sandra Smith. In our first session she said she was going to get me using just one crutch and I laughed as my doctors had told me I needed to accept my limitations. However, Sandra took me back to basics, teaching me to balance and move effectively; taking time to correct my posture and technique.

She has consistently challenged me and, along the way with a lot of sweat and laughter, two crutches became one and then none. Surprisingly she also introduced me to weightlifting. When she first suggested it I thought she had finally lost the plot but I love it – my body is strong and I feel strong. I have finally learned to love my body for what it is capable of. 

 Now the gym is my second home and I am taking every advantage to improve. I was encouraged to start Yoga and that, along with Pilates, has helped me regain flexibility and improve my balance. The Revolution classes improved my cardio fitness and gave me the confidence to get back on my cycle. The support from George and the Monday night Revolution class has been invaluable, encouraging me to stay for the cycle part of the duathlon group and eventually the running part. It was one of my proudest days when I jogged, albeit very slowly, around the outdoor track – never underestimate the power of banter! 

I cannot think of any other place which would have allowed me to achieve all that I have achieved, where the staff are so supportive and where there is  such a willingness to compensate for physical challenges. I am excited to see just what else I can achieve in 2018; taking part in a super-sprint triathlon and lifting competitively are on my to-do list. 

So a big thank you to Team Bath and a very big thank you to my inspirational trainer Sandra!