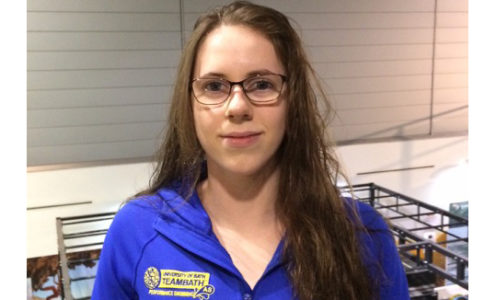 Team Bath AS swimmer Laura McNab has once again been selected to represent Great Britain at the European Junior Championships, this year taking place in Helsinki, Finland from July 4-8.
It is Laura's third opportunity to represent her country, with her selection following success at the British Championships in Edinburgh earlier this month. At the event, Laura won the Junior 200m freestyle title and made the Senior 100m freestyle final, finishing an impressive sixth against the fastest swimmers in the country.
"I am delighted to have been selected again for the European Juniors," said Laura. "I learnt so much at last year's Championships in Israel as it was my first international meeting and I can now put that into practice in Helsinki.
"It has been great working with my coach Chris Alderton and team-mates over the past 12 months. We have such a positive feel now at Team Bath AS that anything seems possible and I am sure this has helped me reach this goal."
Laura's mum, Bath based GP Marion McNab, added: "We are thrilled that Laura has been given this opportunity to challenge herself further, it is such an honour to be part of this really strong British junior team.
"It wouldn't be possible without the great support and advice from her coach Chris Alderton and every one of the swimmers and volunteers that make Team Bath AS such a fantastic club to belong to. It is uniquely placed using the superb facilities at the University of Bath, with its 50m pool and fantastic gym, and I am sure the club will be producing many more international swimmers in the coming years.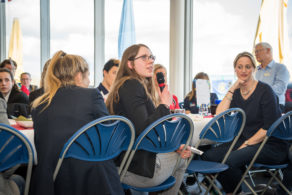 "Laura has also been very lucky to have huge support from the students and teachers at The Royal High Sixth Form – they have been really accommodating, helping her develop a sporting leadership role and assisting her with work missed due to competitions. It really is a team effort to reach the international stage and everyone has helped Laura along the way."
Laura got to mix with nine senior swimmers heading to the Gold Coast 2018 Commonwealth Games when she attended the Commonwealth Big Lunch at the University of Bath last Tuesday and was one of the pupils who took part in a question and answer session with Team England swimmer Anna Hopkin and athlete David King.
Her team-mates in Helsinki will include six newly crowned British Senior Champions who will also form part the a 30-strong team for the Championships, where British Swimming hope to identify some more hidden gems that can become potent forces on the British Team for many years to come.
Team Bath AS Coach Chris Alderton said: "It is absolutely fantastic that Laura has been selected to be part of such a strong British team, she will certainly be in great company out there and will relish the challenge to step up to the next level.
"It is amazing to see the support Laura has received from her team-mates and members of the club. It is truly inspiring to be a part of this Team Bath AS program and I hope that Laura's achievements inspire all our swimmers to strive for their own success, both in sport and in life."
Team Bath AS is a leading performance swimming club who train in the London 2012 Legacy Pool at the University of Bath Sports Training Village.