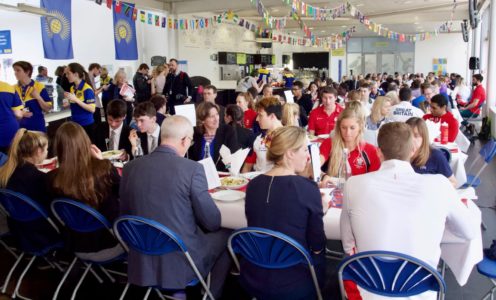 Some of the country's top sportspeople joined dignitaries, students and local schoolchildren at the University of Bath today to celebrate its links to both the Gold Coast 2018 Commonwealth Games and the PyeongChang 2018 Winter Olympic Games.
The Commonwealth Big Lunch, organised and hosted in conjunction with UK Sport, saw 130 guests enjoy food from around the Commonwealth in the first of a nationwide series of events building up to the Commonwealth Heads of Governnment Meeting taking place in London next month.
The Big Lunch also provided an opportunity to wish good luck to the 30 athletes who train at the University of Bath across a host of sports and are competing at the Commonwealth Games in Australia from April 4-15, as well as welcome PyeongChang 2018 Winter Olympic Games skeleton bronze-medallist Laura Deas back to her training base.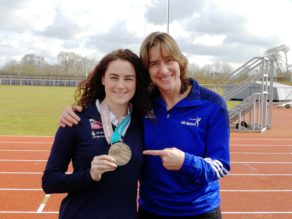 Guest of honour was Dame Katherine Grainger, the five-times Olympic rowing medallist who is now Chair of UK Sport and spoke to the gathering about both her own experiences of international competition and the importance of sport to the Commonwealth.
"This Lunch is a real celebration of Commonwealth values, which is about justice, human rights, democracy and all the things that human beings hold close to their heart," she said.
"I think sport shows what is possible when you get the opportunity to live your life the way you want to and achieve the dreams that are there in front of you.
"I love visiting the University of Bath, it has such an incredible reputation for sport. There are lots of great sports established here like athletics and swimming but Bath has also become a powerhouse of the Winter Games thanks to the skeleton success, which is very exciting.
"Speaking as an athlete, none of us achieve anything on our own and it is very much about the team around us – the environment that is created, the facilities, the coaching set-up and the support – so it is great to be able to celebrate that today."
Deas, who has trained at the University with the British Bobsleigh & Skeleton Association (BBSA) for the past eight years, was also grateful for the opportunity to thank staff for their support.
"It really is my second home, if not my first home, and it's great to see people who have supported me all that time, say thank you and share the success with them," she said.
"The fact we are simultaneously hosting a Winter Olympics homecoming and a Commonwealth Games send-off shows you the level of facilities here at the University of Bath, we really do have everything we need to run a world-class programme. It's fantastic to train with people from other sports as well – we know what we do, and we do it very well, but it's inspiring to watch other athletes come into the gym and train in a very different way."
Deas took to the stage during the Lunch to answer questions from aspiring sportspeople from three local schools – The Royal High School, Beechen Cliff and Ralph Allen. They also had chance to quiz swimmer Anna Hopkin and sprint hurdler David King, two MJ Church ambassadors who will make their Commonwealth Games debut for Team England next month.
They were among 19 athletes bound for the Gold Coast who attended the lunch, which included netballers Zanele Vimbela and Amanda Varey, badminton players Ben Li, Jessica Li and Emily Temple-Redshaw, athletes Tom Gale and Daphne Schrager, and swimmers James Guy, Calum Jarvis, Siobhan-Marie O'Connor, Chloe Tutton, Miles Munro, Cameron Kurle, Jess Fullalove and Andrew Willis.
Athletes and coaches of other sports that train at the University were also present, along with dignitaries including Cllr Ian Gilchrist, the Mayor of Bath, and Steve Egan, Vice-President (Implementation) of the University of Bath. Students representing 25 Commonwealth nations also enjoyed the lunch.
Director of Sport Stephen Baddeley said: "The Commonwealth Lunch has been a big success, we had a lovely mix of elite athletes, University students from across the Commonwealth, 30 local schoolchildren and representatives of the University community.
"We are particularly proud that this was the first of the Commonwealth Big Lunches to take place in the UK and it was brilliant to have Dame Katherine here as our guest, she is sporting royalty and an inspiration to all present. It was also great to have Laura, Anna and David up on the stage to answer questions from local schoolchildren, that really brought the ethos of the event to life."
The £30million Sports Training Village at the University of Bath is one of six UK Sport accredited elite training centres in the country and is the training base for more than 250 elite athletes, many of whom combine their sport with a world-class education.
The University – which has been named as the 2018 Sports University of the Year in The Times and Sunday Times Good University Guide – has strong partnerships with 13 national sporting organisations including British Swimming, British Bobsleigh & Skeleton Association (BBSA) and Pentathlon GB.
The Sports Training Village facilities – which are also open to the public and visited more than 1.6million times per year – include an Olympic-sized London 2012 Legacy Swimming Pool, indoor and outdoor athletics tracks, a leading Physio & Sports Science Centre and a state-of-the-art gym that is currently being doubled in size thanks to a £3.5million investment.
It is also home to the UK's only outdoor push-start track for skeleton and bobsleigh training, with Deas among seven athletes to have won Winter Olympic medals since the facility was opened in 2002.