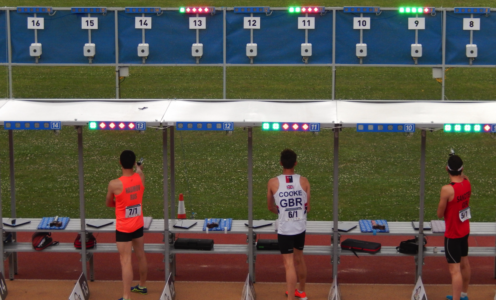 On the day that the Tokyo 2020 Olympic Games schedule was released, it was two Rio 2016 Olympians that joined forces for Pentathlon GB as Jamie Cooke and Joe Choong finished fourth in the men's relay at the European Championships in Hungary.
It was the second time in three years that the University of Bath-based duo had teamed up in the European relay and their 2016 result was repeated as the Brits narrowly missed out on a medal after a highly competitive day of action in Hungary.
However, with focus on the individual competition later in the week, it was a good warm up for both athletes as they eased themselves into the Championships.
After finishing four seconds of the field in the opening 200m freestyle swim, Cooke and Choong maintained their strong start to the competition by ranking second overall in the fencing.
A tricky ride in windy conditions saw the Brits drop to sixth overall going into the last event, the run-shoot where they managed to regain a couple of places but couldn't quite haul in the front three.
The European Championships are running until Sunday (July 22).
Next year's European Modern Pentathlon Championships will take place at the University of Bath, home of Pentathlon GB's National Training Centre. The National Lottery funded event, dubbed "Gladiators Return", will see the best modern pentathletes from across Europe descend on the former Roman Spa town and will run from August 6-11 2019. As well as continental crowns, Tokyo Olympic qualifying places will be up for grabs making it one of the most important events of the season. Click here for more information.