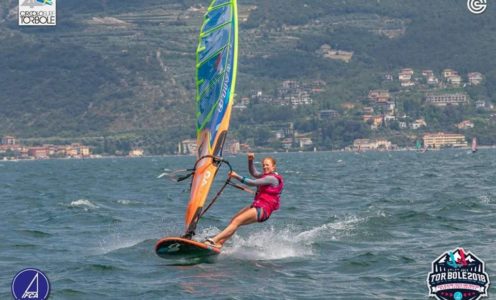 University of Bath windsurfer Sarah Jackson is determined to bounce back from unfortunately missing out on a medal at this month's IFCA Slalom Youth World Championships by securing a top-ten finish at the Senior event in September.
The Sports Performance student, who is supported by a Santander Sports Scholarship, was in contention for overall victory at the Youth Championships on Lake Garda in Italy after recording her first international race win in the second round.
That meant a top-three finish in the third and final round would secure gold and Jackson was on course until a ferry came through her race and forced her to stop. The time lost meant she missed out on the finals and, despite appealing the result, she had to settle for fourth place overall.
"I was pretty gutted and it's tough to accept when I did nothing wrong but I have to accept it and move on," said Jackson.
"I have the Senior World Championships coming up in Denmark, so now I have a clear goal – to go and win the U21 Youth Division and come in the Senior top ten overall. I'm training for the Worlds in the Dutch Caribbean for seven weeks, so it's not such a tough life!"
Jackson has just completed her first year at the University of Bath, where she is supported by both her scholarship and the Team Bath Dual Career programme for student-athletes.
She was the top female windsurfer in the Student Windsurfing Association (SWA) Puravida Ion Wave Series over the winter, finishing third overall, and also won the individual title in the BUCS competition. That helped Bath finish second in the team event – a great success in their first year as a club.
An ankle injury suffered in January, plus the lack of breeze during the recent heatwave, meant Jackson was sidelined until recently and she returned to action at a PWA World Cup event – the highest level of competition in windsurfing – in Portugal.
"Although slalom is my usual preferred discipline, I did a lot of freestyle training before my injury so qualified to do both events," said Jackson.
"After the injury taking out most of my winter training, my goals for this event were quite basic – do the simple things right all round, pass a heat in the freestyle and land a move I've been learning in training, and in slalom make the top ten for a winners' final.
"I achieved all these goals, so I was really proud of my performances, and it was made even better by my freestyle result where I came seventh.
"Although I was averaging around 14th in the slalom for most of the week, a quick trip to hospital after passing out from heat exhaustion meant I missed the last three races and that messed up my overall ranking.
"We had the hardest conditions I've ever raced in in the slalom with winds gusting over 60mph so most races I was just happy to make it around the course alive!"
Applications are now being taken for 2018-19 sport scholarships from current or prospective student-athletes at the University of Bath. Click here for more information.