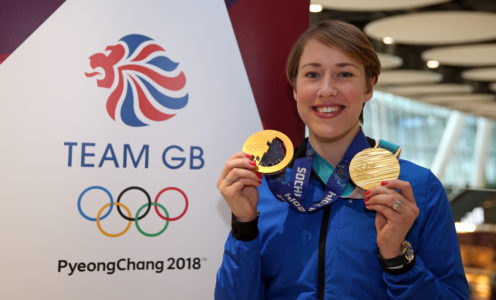 Double Olympic Champion Lizzy Yarnold, who trained at the University of Bath during her outstanding skeleton career, has announced her retirement from competition.
"It has been an amazing ten years of my life and I have been lucky enough to learn from amazing coaches and be part of this team," said Yarnold, who was part of the hugely-successful British Bobsleigh & Skeleton Association (BBSA) squad based at the University.
"When I came into the sport I wanted to go to the Olympics and now I have achieved everything I could have dreamed of and more."
Yarnold became Great Britain's most decorated Winter Olympian in PyeongChang earlier this year when she made history by successfully defending the women's skeleton title she had won at Sochi 2014.
The former heptathlete also won the World and European Championships, as well as the ISBF World Cup, during a skeleton career that began when she was talent-spotted on the UK Sport and EiS-backed Girls4Gold programme.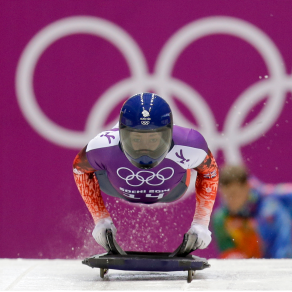 Stephen Baddeley, Director of Sport at the University of Bath, said: "Congratulations to Lizzy on an outstanding career. We have been privileged to see at first hand the dedication and determination in training that, allied with her unwavering self belief and natural sporting ability, enabled her to become an Olympic Champion not just once but twice.
"She is a tremendous role model, an inspiration to everyone here at the Sports Training Village and we all wish her the very best for the future."
Danny Holdcroft, British Skeleton's Head of Performance, said: "Lizzy has given everything to our sport and she undoubtedly deserves her status as a true great.
"It has been a privilege to see her grow and develop into someone who has perfected the blend of the ruthlessness needed to be successful in high performance sport and the ability to be a real team player.
"While her natural talent is unquestionable, Lizzy showed us all what is possible with dedication and hard work. Her drive and desire to defend her Olympic title was a shining example of digging deep into both physical and mental trenches to achieve a dream."
Yarnold will remain involved with skeleton in a mentoring capacity for potential Olympians coming through the programme, with Holdcroft adding: "Lizzy's enthusiasm to inspire the next generation of sporting stars within Great Britain is something she should be very, very proud of. She is a legend, on and off the track."
British Skeleton athletes based at the University of Bath – training on the UK's only outdoor push-start track and in the high-performance Team Bath Gym – have won seven medals, including three gold, at the Winter Olympic Games since 2002. Click here for more information.