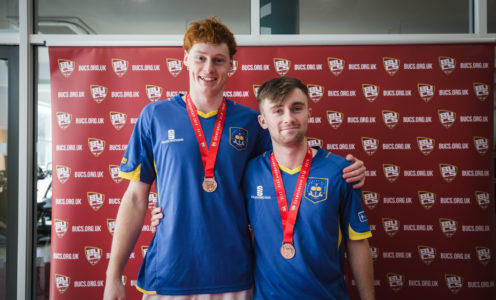 It is an exciting time for student tennis at the University of Bath, with the Blue & Gold set to go from strength to strength in the coming years.
That is the view of Team Bath Director of Tennis Barry Scollo who has been encouraged by the performances of this year's squad in both individual and team competition at BUCS [British Universities & Colleges Sport] level and beyond.
Highlights include a bronze medal for Ben Jones and Louis Newman at the BUCS Doubles Championships and a runners-up spot for the men's 2nds in the national BUCS Trophy.
Chemistry student Jones, who is supported by a Buchan Jones Sports Scholarship, was also part of the GB Students teams that won silver at the Master'U BNP Paribas team tournament in France.
"Our real drive is creating the best performance pathway in the UK and the university teams are a really important part of that pathway," said Scollo.
"In terms of building the teams and the strength in depth coming though, it has been a really encouraging year. A lot of new players have come in and got their first season under their belts, and we're really excited about the next two to three years."
The University Performance Programme runs in tandem with the Team Bath International High-Performance Tennis Academy and is for players who wish to combine an outstanding education at the University of Bath with training and competing on the national and international stage.