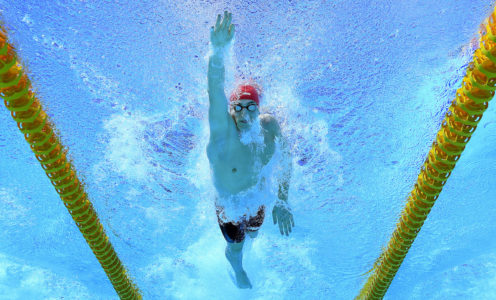 University of Bath-based swimmers Tom Dean and James Guy claimed their second medals in as many days as the build-up to the 2019 World Championships continued at the Mare Nostrum gala in Canet, France.
Mechanical Engineering student Dean, who is supported by a Bill Whiteley Scholarship and is a MJ Church Ambassador, followed up his 200m freestyle gold medal by winning silver in the 200m individual medley in 1:59.55.
Guy – who, like Dean, trains with the British Swimming National Centre Bath at the University's £35million Sports Training Village – produced a strong finish to take 100m freestyle bronze in 49.53, with just half-a-second covering the whole field.
University of Bath graduate Anna Hopkin, having won 50m freestyle silver on the opening night, recorded her second lifetime best of the gala to finish eighth in the 50m butterfly final in 26.72.
She was also seventh in the 100m freestyle, as was Siobhan-Marie O'Connor in the 200m breaststroke.
The attention now turns to the next Mare Nostrum event in Barcelona this weekend, where the National Centre Bath contingent will be joined by student swimming club duo Filippos Iakovidis and Jeffrey Chen. They are coached by Mark Skimming and Andrei Vorontsov.