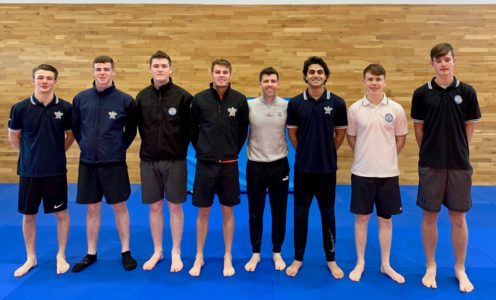 Nine of Britain's best racing drivers got to experience and learn from new sports, including modern pentathlon and judo, when they visited the University of Bath for a bonding day.
Kiern Jewiss, Seb Morris, Enaam Ahmed, Tom Gamble, Jordan Albert, Bradley Burns, Jordan Collard, Ayrton Simmons and Will Tregurtha are all members of the British Racing Drivers' Club (BRDC) and have enjoyed success in either single-seater or sports car competition.
They took time out from the circuit to try their hands at new skills like laser-shooting and judo throws from coaches at the University's Sports Training Village, as well as see how hydrotherapy can aid recovery.
The day was organised by BRDC Programme Manager Andy Meyrick, a professional racing driver himself, and Eliot Challifour, a Coach Education & Sports Development graduate from Bath who is now manager of the Porsche Human Performance Centre at Silverstone.
"It's been a fantastic day at the University of Bath," said Challifour. "We have been doing a range of activities to expose the drivers to other sports and look at what they do that can relate to whatever motorsport category they are racing in.
"Laser-shooting and running with the Pentathlon GB squad was doing a complex skill while under cardiovascular strain, which is very similar to what they have to do in the car. We also did some hydrotherapy work and recovery strategies they might be able to use, then finished the day with judo.
"Drivers need a strong torso, strong neck and strong grip, and they are also are sat in the car for long periods of time so when they are out of it they really need to know how to move. Judo helps with that.
"All of the drivers know each other socially but many are in different categories so they don't compete against each other. What unites them is being part of the BRDC which supports young drivers and brings them together across different formulas to hopefully introduce them to things that will enhance their driving careers in the future."