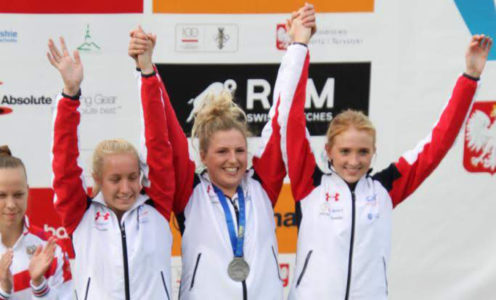 Kerenza Bryson won a hat-trick of medals and there were podium places for University of Bath students Georgia Hannam, Olivia Green and Myles Pillage as Pentathlon GB athletes continued their excellent 2019 form at the Junior World Championships in Drzonkow, Poland.
Bryson teamed up with Physical Health & Activity student Georgia Hannam, a Santander Sporting Scholar, to win silver in the women's relay on the opening day of competition.
Then she built on a stunning start in the fencing, which saw her win 24 of her 35 bouts, to claim another superb silver medal in the women's individual final.
It was her first individual major championship medal and Bryson also became the first British athlete to claim an individual medal at a Junior World Championships since Francesca Summers' 2015 triumph in Mexico City.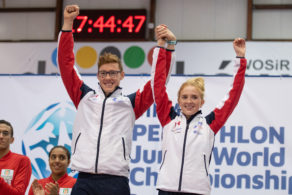 Team Bath Dual Career athlete Green, who studies Sport & Exercise Science, was 11th overall and Hannam placed 24th, which meant that Britain won team bronze – matching their feat from last month's Junior European Championships.
Green and Pillage capped the week by producing a fine display to claim bronze in the mixed relay on a dramatic final day that saw massive changes in every discipline.
The British duo led after the swim, dropped to sixth after the fencing and then bounced back to top spot after a ride that saw seven nations get eliminated.
Biochemistry student Pillage, supported by a Trendell Sports Scholarship, had been in a similar situation the previous day in the men's final but had finished tenth on that occasion. This time he was able to secure a medal as he and Green held off a late charge from Poland with some strong running.
Pentathlon GB athletes return to action on Thursday with the start of the Under 19 and Under 17 World Championships as the 2019 international season continues apace.