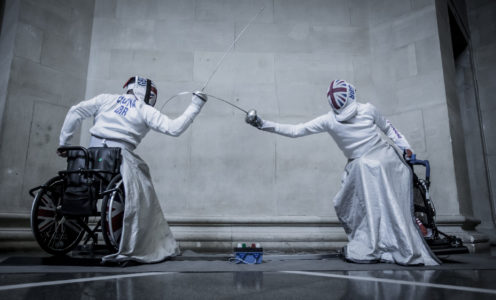 University of Bath-based wheelchair fencers Piers Gilliver and Dimitri Coutya will be looking to cap stellar seasons – and lay down a marker for Tokyo 2020 – when they represent Great Britain at the IWAS World Championships in South Korea next week.
The duo are ranked as the world's number one epee fencers in Category A and B respectively after winning a host of gold medals on the World Cup circuit.
Coutya made history two years ago when he won the world titles in both epee and foil, the first British fencer to achieve that goal, and he is looking forward to defending his crowns in the biggest qualification event for the Tokyo 2020 Paralympic Games.
"I feel like I'm at my peak at the moment and I'm interested to see how I can tackle the next year and all the competitions that come with it," he said.
"Having a fixed funding programme has made a big difference and I'm really grateful that we are able to use the facilities here in Bath to train. It has really helped us tweak everything we can to raise the bar to the next level.
"We have a nice national centre set up here and training alongside Piers is great. We're big mates, we both started the sport at the same time and did our first international competition together. We've worked our way through and progressed alongside each other.
"The Worlds are definitely going to be a more intense competition than two years ago, there are more countries sending athletes and everyone who wants to compete in Tokyo will be there. The utmost focus is going to be needed."
Gilliver had to settle for epee silver at the last World Championships but is determined to go one better this time round while also at least emulating the bronze he won in sabre, his second weapon.
"Gold is the big goal for me," said the Rio 2016 Paralympic silver-medallist. "I was disappointed not to win one at the last World Championships and that has given me an extra push. The big hope is to medal in sabre again too.
"This has been my best season so far. I have a great training environment here and great coaches, so I have been able to really focus on the minor gains that have made a big difference to my performance.
"It's really good to train and compete alongside Dimitri, we started together as juniors and are now the senior members of the British team. We're trying to use that experience to build up the rest of the team and it's great that the whole country is doing so much better than when we first started – not just ourselves but the other team members competing internationally."
The World Championships in Cheongju will see Gilliver and Coutya compete in the epee and foil respectively on Tuesday (17th), then the sabre and epee the following day.
They are coached by Peter Rome in the fencing salle at the University's Sports Training Village. The Wheelchair Fencing World Class Programme is managed by the EiS (English Institute of Sport), which has a high-performance centre at the University. Click here to find out more.