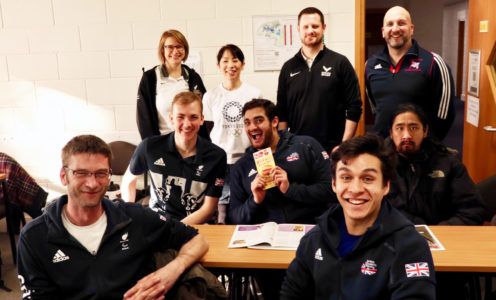 The English Institute of Sport (EIS) has teamed up with the University of Bath to provide education sessions on Japanese culture to athletes and support staff as part of a preparation program towards Tokyo 2020.
The University of Bath's highly-respected Skills Centre (Foreign Languages) has been delivering introductory classes on Japanese culture on subjects such as getting around, currency and basic words and practical phrases to athletes and support staff from several sports which are based at Team Bath at the University.
The sessions are the first of their kind to be delivered to all sports based at the University and it is hoped that the relationship can continue over the coming years as athletes prepare for the Beijing Olympic and Paralympic Winter Games in 2022, the Paris Olympic and Paralympic Games in 2024 and other major events held across the world.
Stephen Baddeley, Director of Sport at Team Bath, is delighted at how well the sessions have been received:
"One of the fantastic benefits of the University of Bath is that we can offer world-class training facilities alongside world-class education but we've never taken advantage of this before by proactively putting on specific education sessions for our athletes aiming for a Games," he said.
"The EIS are experts in performance preparation and have a base here at Team Bath, and we are delighted that they have teamed up with the University in this way. Given how successful the sessions have been with athletes and support staff alike, I think we will look at a more structured programme ahead of future major events."
Di Benham, Operations Manager at the EIS, added: "I would like to thank the experts at the Skills Centre (Foreign Languages) for working so closely with us on this.
"At the EIS, we are committed to looking at any activity which could potentially have a positive impact on performance and these sessions were designed to make those who might be travelling to Tokyo feel more knowledgeable about and therefore respectful of Japanese culture.
"While it feels like a small thing, our experience tells us that this kind of activity can make a big difference to how comfortable an athlete or staff member feels when they first arrive in a new country. We also believe it is important for anyone travelling to understand a little of the culture and language of the country they are visiting.
"The feedback we have received so far suggests that this initial session was very valuable and we'd be hopeful to continue with the arrangement in the future."
Isabella Stefanutti, Head of the Foreign Languages Centre at the University of Bath said: "This was an interesting new initiative for us and I'd like to thank our Japanese teacher, Satoko Suzui, for the time and support given."
The EIS has been based at Team Bath since its inception in 2002. Find out more by clicking here (external link).