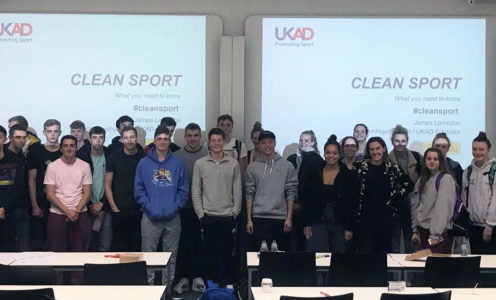 The University of Bath has retained its UKAD [UK Anti-Doping] Clean Sport Elite Accreditation after demonstrating its ongoing commitment to providing students, staff and coaches with essential anti-doping education and support.
As one of only three higher-education institutions in the UK to receive the award, the University of Bath is recognised by the national governing body as promoting a clean sport ethos through its culture, policies and environment.
Stephen Baddeley, Director of Sport at the University of Bath, said: "We value our partnership with UKAD, one of the leading anti-doping bodies in the world, and we are particularly proud to be a UKAD accredited site.
"We do all we can to promote an environment that supports clean sport and provides athletes with the information they need to ensure they play clean. That is so important, not only for the health of individual athletes but the integrity and credibility of sport."
The University of Bath first received UKAD Elite Accreditation in 2017 and has undergone a rigorous reaccreditation process over recent months.
All contracted and Head Coaches employed by Team Bath are 'Coach Clean' qualified, while all practitioners and athlete support personnel are accredited advisors.
The University has seven UKAD educators and they delivered anti-doping sessions to more than 300 athletes during 2019.
"We aren't just focussed on performance-level sport but work to ensure that clean sport information is available to all our customers on making informed choices and protecting the integrity of sport," Baddeley added.
Among the athletes to have received anti-doping support is GB trampolinist Kirsty Way, a silver-medallist at the 2019 World Championships and Sport & Exercise Science student who is supported by a King Sporting Scholarship.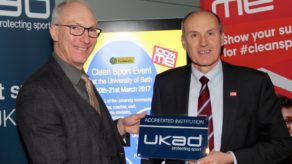 "I am proud to train and compete at a centre that supports clean sport and where there are so many educational opportunities to inform us of the risks of doping," she said.
Paul Moss, Head of Education at UKAD, said: "As one of the first three institutes to achieve Accreditation at the Elite level in 2016, I would like to congratulate the University of Bath on being one of the first to re-accredit at the same level in 2020.
"The reaccreditation shows a continued commitment to providing high-quality clean sport education and a clean sport environment for students, athletes and staff.
"The University of Bath's submission displayed a thorough commitment to clean sport as well as the depth in which clean sport initiatives have reached within sport and recreation at their university, underpinned by a positive and forward thinking approach to clean sport."