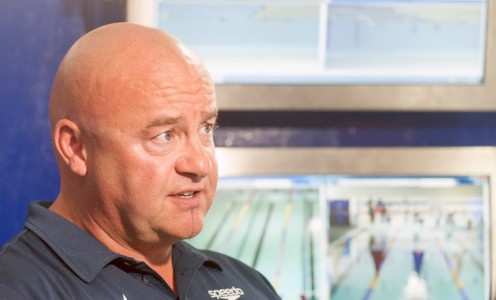 Swimmer Jazz Carlin, who won two Olympic medals while training at the University of Bath, has been catching up with former coach David McNulty and student-athlete Tom Dean to see how they are coping and adapting during the lockdown.
The British Swimming National Centre Bath squad, who use the Sports Training Village's Olympic-sized pool and high-performance gym for their training, should have been honing their preparations for the Tokyo 2020 Olympic Games at this time.
However, following the lockdown in March and the decision to postpone the Games until 2021, coaches and swimmers are instead beginning week seven of land-based training at home as they keep their fitness levels up ahead of a return to the pool.
McNulty, who has been Lead Coach at the National Centre Bath for the past 11 years and coached Carlin to 400m and 800m freestyle silver at Rio 2016, reveals how he has been helping the athletes maintain their motivation and encouraging them to look forward to walking back into the STV, smelling the chlorine – and even going to the gym!
Bill Whiteley sporting scholar Dean, meanwhile, tells Carlin about how his move to Bath – where he also studies Mechanical Engineering – came about and how the delay to the Olympics to 2021, when he will be a year older, stronger and more experienced, could benefit him.