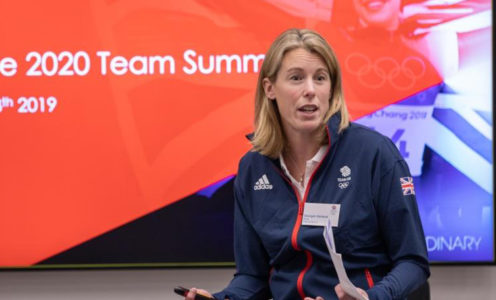 Georgina Harland, who won an Olympic medal while training at the University of Bath, has been appointed as Team GB's Chef de Mission for the Beijing 2022 Olympic Winter Games.
In doing so, the former modern pentathlete becomes the first ever female Chef de Mission for Great Britain and Northern Ireland at an Olympic Games.
Harland, who won bronze at Athens 2004 while training with Pentathlon GB at the University's Sports Training Village, will take charge of the planning, preparation and execution of Team GB's participation in the XXIV Olympic Winter Games, taking place from 4-20 February 2022.
"I am so honoured to have been asked to take the role of Chef de Mission for Beijing 2022," said Harland. "I have a deep passion for the Olympic Movement and all it encompasses, and so outside of representing your country as an athlete, which I have been fortunate enough to do, this is the next best thing.
"Being named as Chef de Mission is a privilege, and I will give everything I can to the role on behalf of all of our winter athletes and sports.
"The growth and development of Team GB as a winter nation is incredibly exciting, and Team GB's record-breaking performances in Sochi and PyeongChang are testament to this. I am very much looking forward to the journey to Beijing in 2022 and making it a memorable and successful experience for our athletes and the broader team."
Harland has been a Sport Engagement Manager at the British Olympic Association (BOA) for nearly ten years and acted as Chef de Mission at the 2020 Youth Olympic Winter Games in Lausanne earlier this year. She was a Deputy Chef de Mission for Team GB at the Rio 2016 Olympic Games, a role which she will replicate for the Tokyo 2020 Olympic Games, which has been moved to the summer of 2021 due to the COVID-19 pandemic.
BOA Chairman Sir Hugh Robertson said: "This is a very exciting appointment for Team GB. Georgie is a natural leader who brings the insight of an Olympic medallist and has allied it to over ten years' experience at the BOA. She did a superb job as our Chief de Mission at the Youth Olympic Games in Lausanne earlier this year.
"I would also like to thank Mike Hay for his outstanding contribution as Chef de Mission for Team GB at the last two Olympic Winter Games. Mike made it known to us some time ago that his intention was that PyeongChang would be his last Winter Games for Team GB, and that he would seek to step down after acting as Deputy Chef de Mission at Tokyo 2020. We are indebted to him for his hard work and leadership."
Among the organisations that Harland will be working with during the build-up to 2022 in her role as Chef de Mission is the British Bobsleigh & Skeleton Association, which is based at the University of Bath and whose athletes have won medals at each of the last five Winter Olympic Games – including skeleton gold for Amy Williams in 2010 and Lizzy Yarnold in 2014 and 2018.