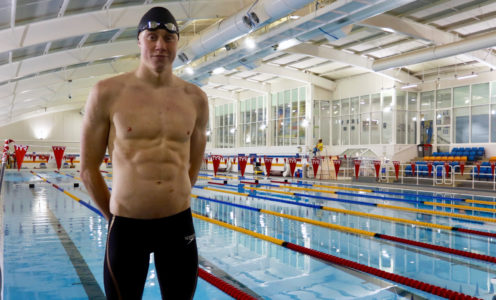 Face masks, temperature checks, individual changing areas and designated lanes – those are just some of the things that have become the 'new normal' for University of Bath sporting scholar Tom Dean and his British Swimming colleagues since their return to training at the Sports Training Village.
The Bill Whiteley Sporting Scholar, who is taking a year out from studying Mechanical Engineering at the University to focus on the Tokyo Olympics, is among a handful of athletes with the British Swimming National Centre Bath who have resumed their preparations under the strict guidance of the DCMS 'elite return to training' criteria.
And, as Tom explains, there are plenty of new measures that have been put in place at the STV to ensure the health and safety of the swimmers, coaches and staff on site.
"We're only arriving in cars with people we share a household with and it's face masks from the moment you step out of the flat, all the way to diving into the pool – that's important," said Tom who, like his colleagues, also had to watch a STV-specific safety briefing video before his return.
"We're keeping socially distant, two metres throughout the entirety of our time at the STV. When we walk in, we fill in a questionnaire and answer a few yes/no questions, then get our temperature taken before following a designated, one-way route to the pool.

"We have to get changed in a certain spot which has been numbered for us and laid out with a two-metre radius around it, so there's a lot to follow before we even dive in the pool – and then when we actually reach the session, how that looks has completely changed.
"My coach David McNulty is quite notorious for his briefings at the beginning of sessions – I absolutely love them, we normally all sit together and Dave sits on the side and tells us the aim of the session.
"But that can't be done now as we all have to keep very separate. Obviously Dave has his mask on as well for the whole session and he can't brief us in that same way, which is tough, because that kind of brings the group together at the start of each session.
"So he has to work round it and just talk to us while we're at the opposite ends of the pool in our own lane – we have designated lanes and designated ends of the 25m pool that we need to keep to.
"And afterwards, once we've finished the session, it's back to our spots to get changed and out of the building as quickly as possible with the mask on, following a different route to your cars.
"There is minimal social interaction, which is tough because it's quite an isolated sport already, but I think the novelty of being back in the water hasn't worn off yet and hopefully it won't over the next few weeks either because obviously it's important having these guidelines in place."
While the STV currently remains closed to other users in line with the current UK Government guidance, the return of a limited number of athletes and coaches to the building is allowing Team Bath staff to fully test procedures, signage, one-way systems, cleaning regimes and social distancing in advance of any future Government-approved access.