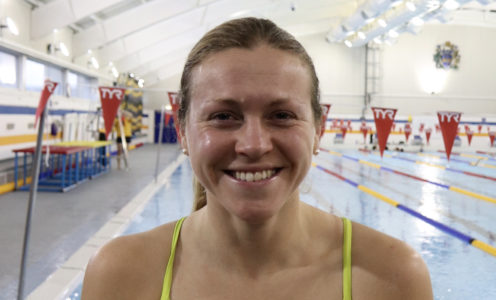 University of Bath-based triathlete Vicky Holland will return to international competition this weekend when the only ITU World Triathlon Series race of 2020 takes place in Hamburg, Germany.
Holland, the 2018 World Champion and Rio 2016 Olympic bronze-medallist, has been back in training at the Team Bath Sports Training Village for the past couple of months.
She is one of four Brits on the entry list for Saturday's elite women's race, which will take place under controlled conditions in Hamburg's Stadtpark instead of the city centre as in previous years.
The International Triathlon Union (ITU) have also confirmed that the competition – the first international event since March and the only one remaining on the calendar for 2020 – will now double as a standalone World Championships, with the medallists being decided on the day rather than over the season.
Holland, who trains with British Triathlon's Bath National Performance Centre, won gold on her last competitive outing before lockdown, the Mooloolaba World Cup in Australia in March.
"It's obviously been a bizarre year for us all but I am appreciative that I have another triathlon in the calendar this year and I'm definitely looking forward to racing again in Hamburg," Holland told the British Triathlon website. "They have done a great job to make sure this event can go ahead in a safe environment and I'm really grateful to be heading to a start line once again."
Led by Head Coach Rhys Davey, with the support of South West Academy Director Blair Cartmell, the Bath National Performance Centre is based at the Team Bath Sports Training Village with triathletes training on the indoor and outdoor athletics track, in the Olympic-sized London 2012 Legacy Swimming Pool and in the Team Bath Gym and Fitness Centre.
Watch the video below to find out more about the programme or click here to visit our triathlon page.