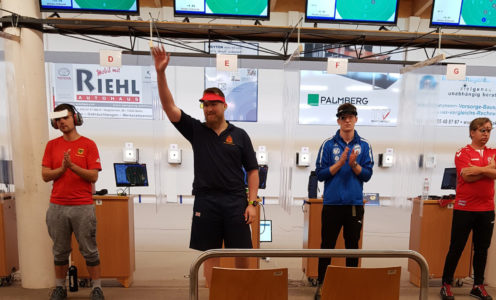 Team Bath Dual Career pistol shooter Kristian Callaghan made a winning return to international competition when he claimed double gold at the IWK Berlin competition in Germany.
The 2014 Commonwealth Games medallist won both 25m Rapid Fire Pistol (RFP) finals, recording impressive scores of 574 and 573 respectively out of 600 – and registering a number of perfect series of five hits from five, including in a gold-medal shootout in the second final.
The results were all the more impressive as Callaghan, who is studying a PhD in Electronic & Electrical Engineering at the University of Bath, had not fired a live shot either in training or competition for nearly six months due to lockdown.
"When I left for Berlin on 29th August, I had not fired a live shot since 17th March when I was training on the Pentathlon GB range at the Team Bath Sports Training Village," said Callaghan, who also placed fifth in a world-class 10m Air Pistol final in Berlin with a score of 575.
"I think that was the longest period during my entire 19-and-a-half year shooting career that I had gone without firing a shot. My last RFP match before Berlin was at the European Championships in Italy last September, so I did not have any expectation for my results going into the competition.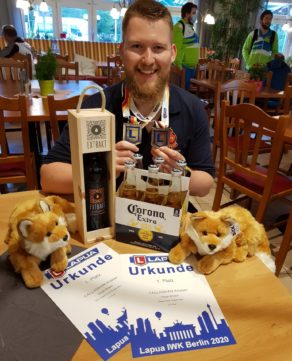 "Fortunately I was able to train for four days in Berlin prior to the start of the competition, which went really well and gave me confidence. Given the great results, in terms of my performance in qualification and finals more than medals won, I am delighted!"
While he may not have been able to do live shooting during lockdown, Callaghan was able to work on his fitness with the help of Team Bath's lead strength & conditioning coach, Harri Cizmic.
"Harri continued to work with me over Microsoft Teams during lockdown and gave me a home programme to follow with any equipment I had lying around," said Callaghan, who is supported by the Talented Athlete Scholarship Scheme (TASS) and the Team Bath Dual Career programme.
"Ultimately in May I cracked and bought a barbell so I could do some more advanced exercises. This proved to be invaluable, both for my sanity but also with keeping me in good physical condition.
"My rowing workout scores were better than they have been in three years, I suspect because I've been able to carry out the workouts regularly as I'm not travelling for weeks at a time."
Callaghan will be returning to Germany next month for the new Bundesliga season, which is running as normal from October to January, although he will be unable to do any live shooting before then as ranges remain closed in the UK.