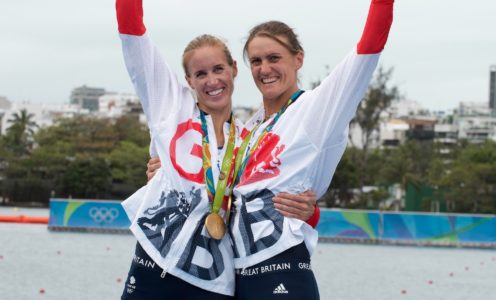 Double Olympic champion Helen Glover, who began her celebrated rowing career training at Team Bath, has announced her return to the sport as she seeks to compete at this summer's rescheduled Tokyo 2020 Games.
Glover, who first began rowing on the British Rowing World-Class Start Programme in Bath in 2008, last competed internationally in the women's pair final at Rio 2016 where she and University of Bath graduate Heather Stanning successfully defended the historic title they had won at London 2012.
The pair (pictured) first rowed together while training at the Team Bath Sports Training Village and with local club Minerva Rowing. They went on to dominate their class, going unbeaten for five years and winning Olympic, World and European titles before seemingly hanging up their oars after Rio.
Glover has married TV presenter Steve Backshall and had three children since then but has now rejoined the GB Rowing Team at their Caversham training base in a bid to become the first woman to compete for British Rowing at an Olympic Games after having children.
"It started as a desire to get my fitness back after having the twins, training during their nap time," Glover told British Rowing. "When lockdown came it meant more hours on the rowing machine than I had anticipated.
"As my scores and times started getting better, I began to wonder if I could be the first woman in British Rowing history to make an Olympic team after having children. I'm finding the journey exciting and extremely challenging. Trying to be an elite sportswoman and also the best mother I can be to young babies is certainly teaching me a lot."