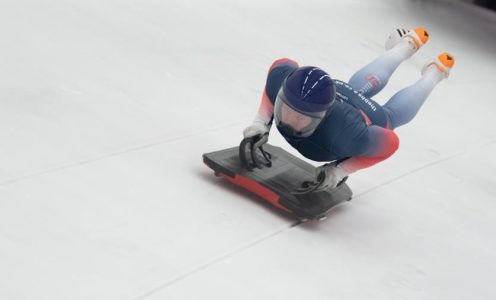 Olympian Jerry Rice has announced his retirement from skeleton after more than eight years with the University of Bath-based British team.
Rice, who was the second longest serving member of the squad behind Olympic bronze medalist Laura Deas, finished 10th at the PyeongChang 2018 Olympic Winter Games as he saved arguably his best top-tier performance for the biggest stage of all.
The 30-year-old raced 79 times for his country and competed at two World Championships, in addition to his Olympic selection in South Korea. He won the overall Intercontinental Cup title in 2017 and 10 medals in total, including bronze in his final race on the Europa Cup circuit in Altenberg in January.
"The main reason I've decide to retire is that I'm a family man now and I've got lots of responsibilities back home," said Rice, who was back from the 2021 season in time to celebrate daughter Reya's first birthday with wife Jennifer.
"The commitment required for elite sport is a lot and I felt it wasn't worth sacrificing that much time away from my family any more in order to push on to the next step in skeleton.
"I sat back and thought, 'I've had a great career, I'm pleased with it, but, in order to keep up, it's going to take extra time away from the family, and I can't fully commit to that'.
"In my head, after PyeongChang, I was all ready to go for the next four-year cycle. It was all about just building on my performance in Korea and trying to go the next step in Beijing but having a kid changes your perspective. As an athlete, you have to be selfish: you have to have a one-track mind. You need to know where you're going and you need to put your all into getting there.
"The moment you have a kid – and anyone who has a kid knows this – you have to take a back seat a bit and they become the priority. You do that with a smile on your face because it's amazing watching them develop and grow and you take a lot of joy from it.
"It was a fairly difficult decision but, when I really put my mind to it, it was the obvious decision to make. There's a lot of very strong talent in the British programme at the moment. We are coming through as one of the dominant nations and that in itself is amazing for the programme but, for an athlete in it, it means the internal competition is massive.
"In the end, I thought, 'the programme's in good hands – they don't necessarily need me and I'm more than happy to step aside and let the younger guys do what needs to be done to continue our Olympic success'. The Games was definitely in my head and I ummed and aahed about it but, in the end, it was a decision that was very simple and easy to make. I already feel like it was definitely the right decision to make and the right time to make it. I'm happy with what I've achieved and ready for the next step."