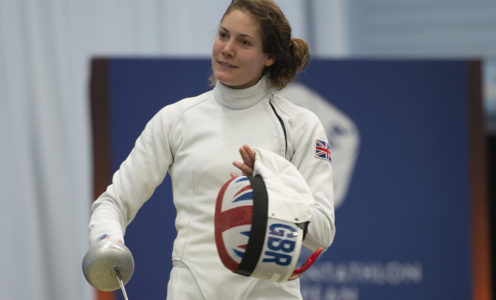 Kate French smashed a fencing world record and led a British podium one-two with Jo Muir as Pentathlon GB's women enjoyed an outstanding day at the first UIPM Modern Pentathlon World Cup event of 2021.
Francesca Summers also recorded a top-six finish in Budapest as the University of Bath-based team gave a huge signal of intent at the start of the Tokyo Olympic year.
It was 13 months ago that Pentathlon GB athletes last contested an international event but French had clearly been putting the time to good use in the Team Bath fencing salle as she won an incredible 31 of her 35 bouts.
That set a new women's world record of 286 pentathlon points in fencing, equalling the men's record, and moved French up from 17th after the opening swim discipline to top of the leaderboard.
Fellow University of Bath alumna Muir also excelled in the fencing with 21 wins before producing the second best ride of the day to secure 297 out of a maximum 300 points, with Summers just a place and two points behind her.
A couple of refusals for French couldn't prevent her taking a lead into the final run-shoot discipline, which she maintained to win gold. She was joined on the podium by Muir, who moved up from fourth to second, while Summers also surged through the field to take sixth spot.
It was a magnificent performance from Pentathlon GB, whose National Training Centre has been based at the Team Bath Sports Training Village since 1998.
Joe Choong, Jamie Cooke, Sam Curry and Tom Toolis will be looking to emulate that success on Saturday when they compete in the men's final.