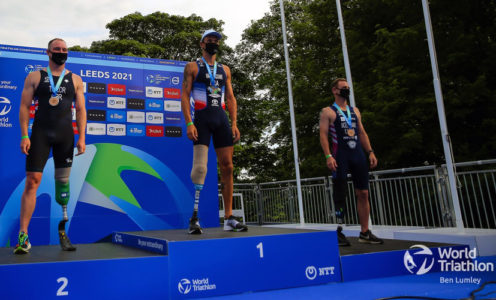 University of Bath-based Michael Taylor won a superb silver in Leeds' Roundhay Park on Saturday during the first-ever World Triathlon Para Series event to take place on British soil.
Taylor, coached by Rhys Davey at the British Triathlon Bath National Performance Centre, matched his performance in Yokahama, Japan last month as he finished runner-up to 2019 world champion Alexis Hanquinquant of France in the PTS4 race.
It was one of five medals won by British triathletes in front of home supporters at the AJ Bell 2021 World Triathlon Para Series Leeds as the countdown to this summer's Tokyo Paralympic Games continued, with valuable qualification points also secured.
"It was so nice to have crowds again and it's been a really good day, I really enjoyed it," said Taylor, who trains at the Team Bath Sports Training Village.
"I went out quite fast because the French guy in my category is a really good swimmer, so I was trying to see if I could drop him but he wasn't having it, he was on my feet straight away and overtook me.
"I would have like to have been out ahead of him on the swim to see if I could be close on the bike but he's really good and I'm happy with second."