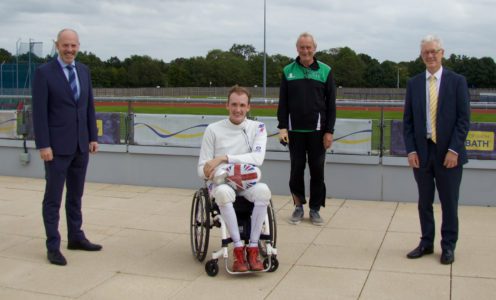 Justin Tomlinson MP, Minister of State for Disabled People, visited the University of Bath this week to see the facilities used by both Tokyo 2020 Paralympians and community clubs as part of a campaign to encourage more sports clubs to offer opportunities to disabled people.
Wheelchair fencer Piers Gilliver – who was back at his Team Bath Sports Training Village training base for the first time since winning gold, silver and bronze in Tokyo – provided a demonstration for Mr Tomlinson and spoke about the positive impact that sport had had on his life.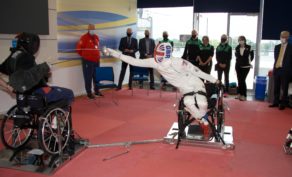 Mr Tomlinson also met Peter Rome and Matt Hammond, Lead Coach and Performance Manager respectively of the hugely-successful EIS World-Class Wheelchair Fencing programme that has been based at the University since 2015 and secured medals in five of the six events their athletes contested at the Paralympic Games.
Professor Ian White, Vice-Chancellor and President of the University of Bath, and Director of Sport Stephen Baddeley welcomed Mr Tomlinson to the University's £35million Sports Training Village and gave him a tour of the facilities which provide a training base for eight Paralympians competing in Tokyo across athletics, swimming, triathlon and wheelchair fencing.
It is also home to a number of community sports clubs including Bath Sword Club, who Gilliver trained with for much of his career. The Minister met four members of the club during his visit as well as Di Benham, Operations Manager of the English Institute of Sport (EIS) based at the STV, and University of Bath academics who work in such research areas as bionics and the rehabilitation of wounded veterans.
Mr Tomlinson, who is the Conservative MP for North Swindon, said: "I'm here to celebrate the ongoing success of ParalympicsGB and also to look at the ways we can create more opportunities for the next generation of elite athletes, as well as encourage people to be active and enjoy the benefits of sport.
"Our Paralympians are a shining example of the life-changing impact sport can play in people's lives. The Games have shown that focusing on what people can do, rather than what they cannot, gets remarkable results."
Professor White said: "It was an honour to welcome the Minister to the University of Bath and show him around our sporting facilities. We are proud to provide a training base which is accessible to not just a host of inspirational sportspeople, whose achievements at the Tokyo Olympic and Paralympic Games have been outstanding, but also to community clubs like Bath Sword."
Gilliver was one of three wheelchair fencers based at the University who won nine medals between them in Tokyo, joining forces with Dimitri Coutya and Oliver Lam-Watson to add team foil silver and team epee bronze to his individual Category A epee title. Coutya also won bronze medals in the Category B epee and foil.
The UK Government recently announced it had increased support for Paralympic sports though UK Sport funding to £61.8million for the Paris 2024 cycle and Sport England will this year invest £40million into a Tackling Inequalities Fund which includes a specific focus on disabled people.
To help disabled people play sport and take part in physical activity, sports clubs – small and large – can apply for funding and support at www.sportengland.org.
Top picture: (From left) Justin Tomlinson MP, Minister of State for Disabled People, Paralympic Champion Piers Gilliver, Bath Sword Club coach Rob Bruniges and Professor Ian White, Vice-Chancellor of the University of Bath.