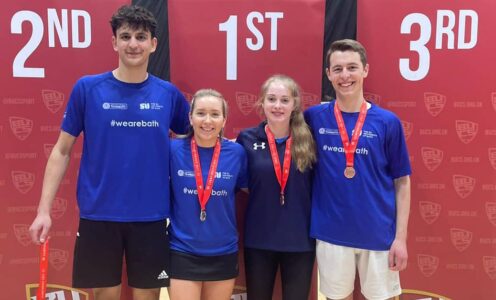 University of Bath student-athletes won a host of medals in athletics, badminton, fencing and swimming when they headed to Sheffield over the weekend for the first BUCS Nationals competition to be staged for two years.
There was a medal of each colour for the University's badminton players, coached by Peter Bush, with Molly Chapman and Santander Sporting Scholar Will Jones (both Sports Performance) taking the mixed doubles title.
Jones also claimed men's doubles silver with Toby Dillingham (Mechanical Engineering), who was a bronze-medallist in the mixed doubles with Cara Collins (Sports Performance).
In the Ponds Forge Swimming Pool, Santander Scholar Leah Crisp (Economics & Mathematics) took the 800m freestyle gold (8:51.48) ahead of Tokyo Olympian Alice Dearing and was also runner-up in the 400m freestyle (4:18.92).
There was a silver medal too in the men's 400m freestyle relay for the quartet of Goldsmith Scholar William Ryley (Management), Miles Drabwell (Economics), Cam Brooker (Mechanical Engineering) and Bruno Kempster (Politics & International Relations) (3:24.00).
Ivor Powell Scholar Brooker, coached by David McNulty, won bronze in both the 100m backstroke (55.76) and 200m backstroke (2:02.27), as well as the 400m medley relay along with Tom Beagley (Mechanical Engineering), Josh Gammon (Sports Performance) and Kempster (3:45.43), the latter – coached by Mark Skimming – also placing third in the 50m freestyle (23.29).
Gammon, coached by Andrei Vorontsov, completed a hat-trick of podium places with bronze in both the 50m butterfly (24.81) and 200m butterfly (2:04.19), while Markos Iakovidis (Sports Performance) was third in the 50m breaststroke (28.82).
On the athletics track Justin Davies (Biomedical Sciences) won 1,500m silver (3:53.94) and Emily Tyrrell (Sports Performance), also coached by Colin Bovell, took bronze in a photo-finish to the 60m hurdles final, her big personal best of 8.56 giving her a podium place by two-thousandths of a second.
View this post on Instagram
Jimmy Seacombe (Sport and Exercise Science) narrowly missed out on a medal in the 400m, just being pipped on the line after leading for much of the race.
The fencing competition saw Trendell Scholar Louise Sadler (Modern Languages) win silver in the women's epee, while there was bronze for Connor Johnstone (Mechanical Engineering) in the men's epee plate.
Bath students also competed in the climbing championships, with Joseph Lane (177 points) and Jane Blackbourn (161) top-ranked in their respective competitions.
Pictured top: (From left) Will Jones, Molly Chapman, Cara Collins and Toby Dillingham on the mixed doubles podium for University of Bath badminton.