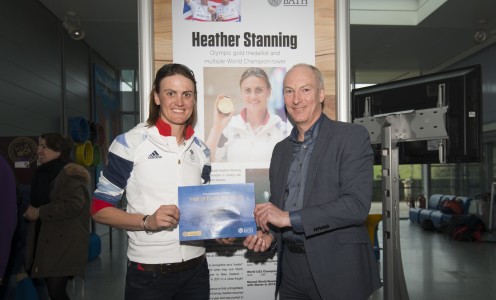 Reigning Olympic, World and European rowing champion Heather Stanning today became the latest inductee into the University of Bath Hall of Fame for Sport.
Stanning first took up rowing while studying Sports Technology at the University and developed her talent with the GB Rowing Team Start Programme based at the Sports Training Village (STV) and Minerva Bath Rowing Club.
Aspiring Olympians currently on the Start Programme joined members of Minerva and the University's Boat Club in a large crowd at the STV to see Stanning welcomed into the Hall of Fame by Director of Sport Stephen Baddeley.
"It's an absolute honour to be in this Hall of Fame," she said. "There are some great athletes who have been to the University of Bath, so to be up there with them is a proud achievement.
"It only feels like yesterday that I left this place. It was here that my Olympic dream started.
"I got into rowing for social reasons – I wanted to meet great people, have a good time, have great nights out in Bath and that's exactly what I did but I also learnt an amazing sport.
"To those of you in the University Boat Club, make sure you enjoy what you do because it's the best sports club in the University by far but it's also a club where you will forge friendships that last forever.
"Most of the friends from university that I am still in touch with are the ones I rowed alongside. The guys that you train with at 6 in the morning down on the river, they are the ones you'll still be in touch with."
Stanning also paid tribute to her rowing partner Helen Glover, who also came through the Start Programme in Bath, and then Start coach Paul Stannard.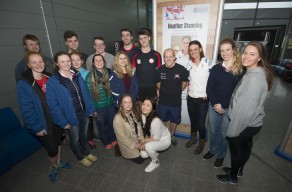 "I couldn't have done it on my own," she said. "Helen has obviously played a huge part in my career but also Paul and the other Start athletes I trained with here helped get me to where I am.
"Minerva Bath, the local boat club, have always supported me too – they let me keep my boat in their boathouse while I was a student while the University was building theirs. Thank you to Minerva for your continued support for me and Helen, we really appreciate it."
Stanning first joined the University of Bath Boat Club in 2003 and took part in numerous BUCS [British Universities & Colleges Sport] competitions, winning gold at the 2006 Indoor Rowing Championships.
In 2005, she was identified as a potential rowing star of the future and invited to join the GB Rowing Team Start Programme, a fast-track talent development scheme based at the University under the watchful eye of coach Stannard.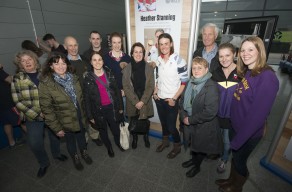 She won World U23 gold with Olivia Whitlam in 2007 – a success that was recognised by the University at the following year's Blues Awards, where Stanning was awarded the Tugendhat Trophy – and made her senior national debut in the GB women's eight in 2009.
Stanning was teamed up in the women's pair with Glover the following year and the rookie combination quickly showed their potential by winning silver at the World Championships in New Zealand.
They repeated that feat in Bled in 2011 before winning a historic gold at the London 2012 Olympic Games. It was the first success for a British women's crew and the first gold of the home Games for Team GB.
Stanning, who had trained at the Royal Military Academy at Sandhurst from 2007 and was commissioned into the Royal Artillery, resumed her military duties in 2013 and served in Afghanistan.
Upon returning to the sport, she was crowned World Champion for the first time, with Glover, in 2014 and the pair successfully defended their title last year. They also won the European Championships and were named as World Rowing Female Crew of the Year.
Appointed an MBE for services to sport in early 2013 and promoted to Major in the British Army this year, Stanning continues to support the University whenever her dual careers allow.
She has attended multiple functions to assist the University in promoting itself and in supporting the community.
In recent years Stanning has also provided accommodation at her home near Caversham – the location of GB Rowing Team's national training centre – for current University of Bath athletes taking part in trials and is always happy to offer them advice.
Stanning is the third Olympic Champion to be inducted into the University of Bath Hall of Fame for Sport, joining Amy Williams (skeleton) and Jason Gardener (athletics).
The other inductees are Jan Bartu (modern pentathlon), Bobby Crutchley (hockey), Lyn Gunson (netball), Paul Palmer (swimming), Ben Rushgrove (athletics) and former Director of Sport Dr Tom Hudson.