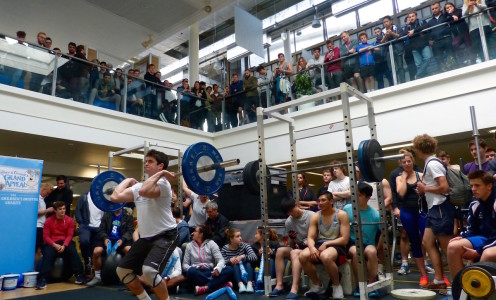 Strength & conditioning coach Luke Vella set an unofficial new world weightlifting record in front of a big crowd at the University of Bath Sports Training Village on Wednesday.
In the process he has raised thousands of pounds for Bristol Children's Hospital, who saved the life of his friend and fellow Team Bath coach Bob Smith's baby daughter.
More than 300 people – including the judo, rugby and tennis players that Vella trains at the STV – turned out to roar on the popular coach in his record attempt.
And they saw Vella deadlift 126kg for 44 repetitions in just 49 seconds, giving him a total weight of 5,544kg – eclipsing the previous record of 5,520. He is now waiting for the record to be ratified.
"I'm really happy with that," said Vella. "It was as tough as I thought it would be but I underestimated just what an effect this crowd would have on me – they were amazing.
"To get this number of people out is great not just for me but for Bob, his daughter Autumn and The Grand Appeal at Bristol Children's Hospital.
"We have to wait and see if it is an official record but the main thing is I have done something to raise people's awareness of this tremendous cause."
Vella is close friends with fellow S&C coach Smith, whose daughter Autumn underwent emergency treatment at Bristol Children's Hospital for a life-threatening heart condition last year aged just four weeks old.
"I am originally from Melbourne in Australia and Bob and his wife Katie were a terrific support to me when I first moved to the UK in 2014," said Vella.
"After hearing what they went through when Autumn was ill, I knew I had to do something to thank the doctors and nurses that looked after their whole family with such amazing care and compassion"
Vella has already raised nearly £2,500 through his record attempt and hopes to double that amount. To support his bid, visit www.justgiving.com/Luke-Vella/
Bob Smith is also fundraising for The Grand Appeal, running a half marathon every single week during 2016. He has so far raised more than £3,000 of his £8,000 target. To support him, visit www.justgiving.com/bobsm100/.