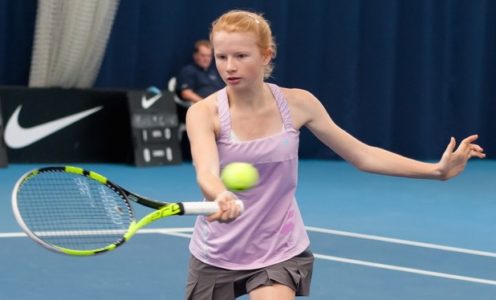 Talented Team Bath MCTA Tennis ace Amelia Bissett recorded a double victory on her home court when the week-long Nike Junior International Bath concluded at the University of Bath Sports Training Village.
Bissett, coached by Craig Proctor, took the step up to U16 level in her stride as she won the girls' singles title with a 6-4 6-1 victory over number-one seed Annali Olivelle in Saturday's final.
She had earlier teamed up with Team Bath access player Tiana Fox to win the U16 girls' doubles with a 6-0 6-3 success against Sophie Clark and Olivia French.
Up-and-coming young players from all over the world competed in the tournament, with the U16 boys' singles final seeing Germany's Nino Ehrenschneider get the better of Poland's Gabriel Bilinski 6-2 6-1.
The doubles final saw Bilinski team up with Britain's Oscar Weightman to overcome Ehrenschneider and Slovenian partner Maj Tomac 7-5 6-0.
Britain's Ali Hassan won both the U14 boys' singles and doubles titles, teaming up with Jack Pinnington Jones for the latter. France's Isabelle Bassi beat Fox in the U14 girls' singles final, while the doubles title went to Millie Mae Matthews and Sophia Underwood.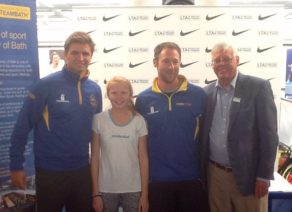 There were several good performances from Team Bath players during the week, with Ned Batstone recovering well from a first-round defeat to win the consolation event for U16 boys.
Joe Leather lost in a third-set tie-break after a battling effort against Portugal's Andre Rodeia and Yusuke Tamaki pushed number-two seed Oscar Weightman all the way in his second-round match.
It was the first time the University of Bath had hosted a tournament for Tennis Europe, with Grand Slam winners Andy Murray, Novak Djokovic, Roger Federer and Rafael Nadal among the hundreds of players to have developed their skills on the Junior Tour during its 26-year history.
Barry Scollo, Director of Tennis at Team Bath, said: "The tournament was a big success and a great way for the tennis programme to kick off the University's 50th-anniversary year.
"Visitors from overseas were very complimentary about the facilities here at the Sports Training Village and there will be a lot of opportunities to grow the event in future."
Click here to find out more about the Team Bath Tennis programme.