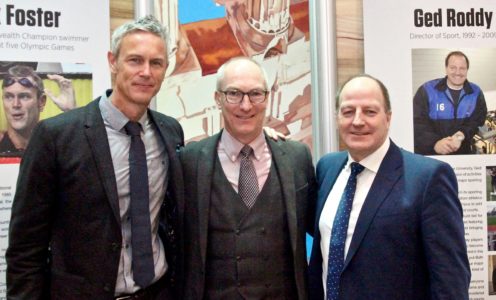 Five-time Olympic swimmer Mark Foster and former Director of Sport Ged Roddy have become the first inductees of 2017 into the University of Bath Hall of Fame for Sport. 
Foster won 51 major international medals – including six World titles and two Commonwealth Games gold medals – during an illustrious swimming career that lasted 23 years. While at Bath, Foster pioneered the kind of land-training that today's swimmers take for granted.
Roddy's pioneering spell as Director of Sport from 1992 to 2009 saw a significant expansion of activities and facilities that established the University of Bath as one of the country's leading sporting institutions. He also famously managed Team Bath FC to the first round proper of the FA Cup in 2002, making them the first University side to reach that stage in 122 years.
Both were welcomed into the Hall of Fame for Sport on Thursday by current Director of Sport Stephen Baddeley during a ceremony well attended by family, friends, athletes and staff in the £30million Sports Training Village, which was built during Roddy's tenure.
"It is a great pleasure to welcome Mark and Ged into the Hall of Fame for Sport, both are more than worthy recipients of that honour," said Baddeley.
"We are extremely proud that Mark chose Bath as a training base during his incredible 22-year career. He always had an ability to not only look beyond his sport but to seek ways of supporting other athletes here.
"While at Bath, he worked on a system whereby athletes grouped together to seek and distribute any commercial income they might raise. He would no doubt be proud that we now have a partner like MJ Church with their eight ambassador athletes across different sports. This is a model Mark helped develop.
"We could be here all day talking about why Ged should be in the Hall of Fame for Sport – 'legendary' pretty much sums up his tenure here. He was hugely instrumental in getting the Sports Training Village built and making sure that everyone wore the Blue and Gold on their backs and in their hearts. Ged had a vision and drove everyone on to share it, meet it and surpass it.
"All of us who work in this inspirational environment on a daily basis, the residents of Bath and surrounding areas and the thousands of athletes – recreational and elite – who have come through these doors since 2003 owe Ged a huge debt."
Roddy, who is currently Director of Football Development with the FA Premier League, added: "As I was driving here this morning I felt like I was coming home. Being part of what became the Team Bath family has been a huge part of my life.
"For me, the thing that sums up the essence of what Team Bath is all about is the athletes and the kids who walk through the front door here with a dream, and it's the people who work here to make those dreams come true. It's all the characters who float about the Sports Training Village who make this place very, very special."
As well as a significant expansion in facilities at the University, Roddy's tenure saw staff numbers quadruple as a host of first-class coaches and sport science support were recruited. A number of national governing bodies and training squads also moved to Bath, laying the foundations for medal-winning performances at World, Olympic and Paralympic level.
Among the world-class athletes who made the Sports Training Village their home during Roddy's tenure was Foster, who represented his country at five Olympic Games and was Team GB's flag bearer at the 2008 Games in Beijing.
The explosive freestyle and butterfly sprinter broke eight world records during a stellar career that also included 11 European Championship successes to go alongside his World, Commonwealth and British titles.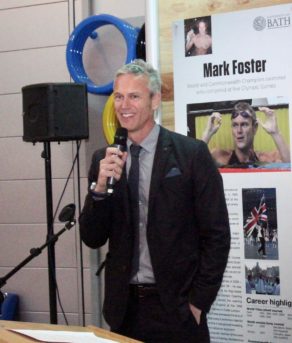 "I trained at the University of Bath from 1996 to 2008 and during that time I won 40 of my 51 international medals, so I put a lot of that success down to this place," said Foster, who is now a TV pundit and co-founder of the FitSteps exercise programme.
"What made the difference for me was how like-minded the people around me were. I was very fortunate that people like Colin Jackson were here and I learned an awful lot from him and the other athletes – about what to do in the gym, what to do with your diet. That helped transform my swimming career.
"It's great to see, two decades later, that things are going from strength to strength here."
Foster and Roddy are the 17th and 18th inductees into the Hall of Fame for Sport, which recognises the outstanding contribution made by athletes and coaches to sport at the University of Bath and Team Bath.
Other members include Dr Tom Hudson, Roddy's predecessor as Director of Sport, and swimmer Paul Palmer, the Atlanta 1996 Olympic silver-medallist who trained alongside Foster in the University's 50m pool.
Click here for more information about the Hall of Fame for Sport and to find out more about the inductees.