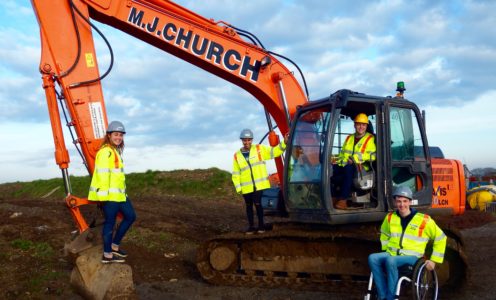 Four University of Bath-based international athletes got to try their hand at driving diggers and dump trucks as they paid a special visit to the headquarters of Team Bath partners MJ Church.
Rio 2016 wheelchair fencing silver-medallist Piers Gilliver and judoka Ben Fletcher were joined by England Women's rugby player Sydney Gregson and skeleton athlete Jor'dan McIntosh on the informative and interactive tour of the Civil Engineering, Plant, Transport and Waste Management Contractors' Marshfield base.
The quartet are among nine sporting ambassadors for MJ Church who are receiving a bursary towards their training and competition expenses from the family firm while encouraging and inspiring the company's staff and their families, as well as customers, to take up sport and healthy activities.
They were hosted on their visit by MJ Church director Tom Church, who showed the athletes the diverse activities taking place at the environmentally-friendly Star Farm site including plant hire, waste solutions and scrap metal recycling.
The ambassadors then got to experience life on the MJ Church training academy, which is developing a new generation of civil engineers, as they operated a 13-tonne excavator and 30-tonne dump truck under the watchful eye of staff.
Team GB and Team Bath judoka Fletcher, coached by Juergen Klinger at the Sports Training Village, said: "Thank you to MJ Church for the tour and getting to drive the dump truck, that was great fun! We are all very grateful for the backing they have given us and proud to be ambassadors for such a friendly, supportive and welcoming company."
Sport Performance student Gregson, a Bristol RFC player who is also backed by a Trendell Sports Scholarship and the Team Bath Dual Career programme, added: "It was cool to see at first hand what MJ Church do, there is so much more going on here than you think. I really enjoyed driving the excavator."
Slider McIntosh said: "I saw a recruitment ad for MJ Church a few weeks ago and tweeted to say I wouldn't mind having a go at driving a digger when I got back from competition – now here we are! They are such nice people at MJ Church, a real family firm, and a pleasure to work with."
Gilliver, who will make his first appearance since Rio at a World Cup competition in Hungary next month, added: "Many thanks to MJ Church for such an enjoyable and informative site visit, and for the fantastic support they give us."
MJ Church, a dynamic business offering a range of services from skip hire and waste collection to multi million-pound civil engineering contracts, became a partner of Team Bath last summer and supports sport from grass-roots level through to high performance.
Formed in 1974, the company has a reputation for its quality of service and straightforward and professional approach.
Tom Church said: "We are very keen to promote a positive image of construction and the opportunities that exist within the sector; our ambassadors, with first-hand knowledge, are helping to build the momentum with changing perceptions about working in the industry."
The five other MJ Church sporting ambassadors – Samantha Cook (Team Bath Netball), Joe Choong (modern pentathlon), Dave King (athletics), Jay Lelliott (swimming) and Eden Richardson (tennis) – will tour the Marshfield site at a later date.
For more information on MJ Church, visit http://mjchurch.com.