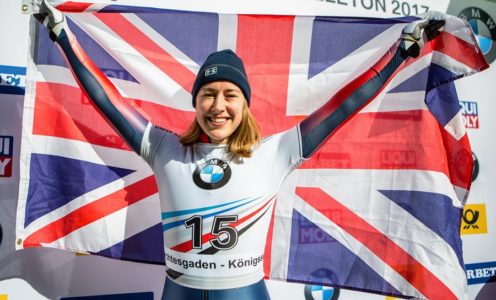 Olympic skeleton champion Lizzy Yarnold returned to the World Championships podium as she won bronze in Konigssee, Germany on Saturday.
The University of Bath-based slider, who took a year out after winning World gold in 2015, was the only non-German to finish in the top four during a competition that was reduced to three runs due to heavy snow.
"It's very emotional, I really feel like this is the beginning and this is where the hard work starts," said Yarnold, who now has three World Championship medals to her name.
"I feel as though I've had a season to get back into competition and now I know how to race again. Racing against Germans on their home track is a really tough challenge but I feel like I was consistent here. It's all about being consistent and calm under pressure and dealing with what's in front of you.
"I do feel like I've developed as a person and in terms of my sliding skill and ability since I won the World title. Even though my results haven't always shown I'm a better slider this season, I know that I am. I've got a better perspective now and a better platform."
Gold and silver went to World number one Jacqueline Loelling and defending champion Tina Hermann respectively. Laura Deas finished tenth, one better than her result 12 months ago, and Donna Creighton was 22nd overall.
The men's competition saw Dom Parsons, a Mechanical Engineering PhD student at the University of Bath, record another top-ten finish in a global competition as he placed eighth overall.
GB had three male sliders in the top 20 for the first time since 2013, with Jack Thomas and newly-crowned Intercontinental Cup champion Jerry Rice 16th and 19th respectively on their World Championship debuts.
The final action of the two-weekend World Championships featured the four-man bobsleigh.
Lamin Deen, Ben Simons, John Baines and Andrew Matthews finished 21st, missing out on a fourth and final run by one place and just 11 hundredths of a second.
Brad Hall, Bruce Tasker, Joel Fearon and Greg Cackett had seen their hopes dashed on Saturday when a crash in run two ended their race prematurely.
The British Bobsleigh & Skeleton Association is based at the University of Bath, training on the UK's only outdoor push-start track and in the EiS High-Performance Gym. Click here for more information.