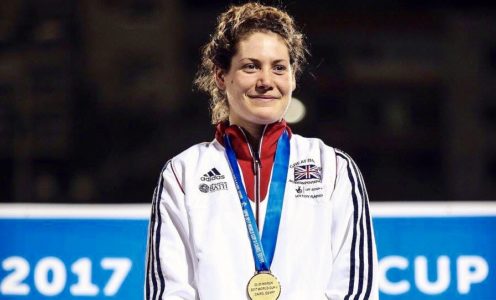 University of Bath graduate Kate French won the first World Cup gold of her career during an excellent weekend of competition for Pentathlon GB.
Jo Muir and Myles Pillage also secured silver in the mixed relay in Cairo, Egypt, while Psychology student Charlie Follett was runner-up at the Swiss Women International in Bern.
Rio 2016 Olympian French has been in fantastic form this year and recorded one of the most emphatic modern pentathlon victories in recent years, finishing well clear of the field in the women's individual final.
After a solid start in the swimming pool, French took the overall lead after winning 29 of her 35 bouts during a fantastic fencing display. She then knocked down just two poles in the ride, giving her a 17-second lead to take into the combined run-shoot that she never looked like relinquishing.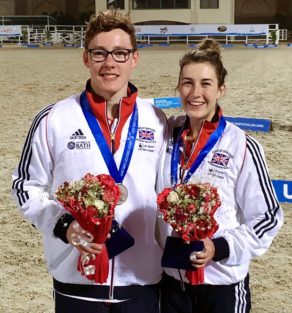 The result sees Sport Performance graduate French move up to fifth in the official World Rankings and complete a career set of World Cup medals following her silver medal in Los Angeles last month and bronze in Florida in 2015.
Two of French's British team-mates also contested the women's final – Muir finished 12th in Cairo after a fantastic laser-run, while Kerenza Bryson came an impressive 26th on her World Cup debut.
Sport Performance graduate Muir was back in action on Sunday, teaming up with Myles Pillage to finish runners-up to Hungary after sitting in the top three throughout the mixed relay competition. For both athletes, who train at Pentathlon GB's National Performance Centre at the University of Bath, it was a first World Cup medal of their careers.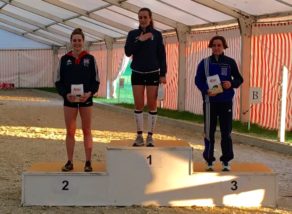 Pentathlon GB's strength in depth was further illustrated in Switzerland as Follett, supported by the Talented Athlete Scholarship Scheme (TASS), claimed a silver medal.
Sociology student Georgia Pipes finished just outside the medals and Zoe Davison was sixth on her international debut.
Pentathlon GB Performance Director Jan Bartu was awarded an Honorary Doctorate by the University of Bath last week – click here for more information.