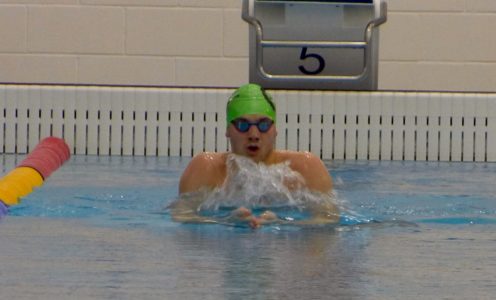 James Guy brought the curtain down on a successful 2017 British Swimming Championships by winning his fourth gold and an eighth title of the week for University of Bath-based swimmers.
Double Olympic medallist Guy, who moved his training base to the National Centre Bath in January, went stroke for stroke with Duncan Scott in a thrilling 200m freestyle final before touching the wall first in 1:44.55.
That was the third time this week he had swum under the consideration time for this summer's World Championships in Budapest and it completed a quartet of golds, following on from his successes in the 400m freestyle, 200m butterfly and 100m butterfly.
"I really wanted that one," said Guy, coached by Dave McNulty and Jol Finck. "It's the end of a long week and I didn't feel as sharp as in the 100m fly but it's a nice way to finish the championships.
"It was a tough field and I think everyone did a great job. It was a fast final and a good sign for the relay for later in the year too."
Training partner and Sport Performance graduate Calum Jarvis, who won World Championship freestyle relay gold with Guy in 2015, won bronze in Sunday's final in 1:47.02. Cameron Kurle was seventh.
Siobhan-Marie O'Connor bounced back from her disqualification in Saturday's 200m individual medley final by setting a World Championship consideration time in the 100m breaststroke, where she finished a narrow runner-up to Sarah Vasey.
It was O'Connor's third silver of the week after being edged out by University of Bath Sport & Exercise Science student Anna Hopkin in the 50m freestyle and 16-year-old Freya Anderson in a 100m freestyle final where Hopkin – part of Mark Skimming's training group – finished fourth.
Rio 2016 silver-medallist O'Connor thought she had won gold in the 200m individual medley after finishing well clear of the field following a stunning swim, only to subsequently be disqualified for a false start.
Jazz Carlin was runner-up in the 400m freestyle, having won 800m gold earlier in the week, and Jessica Fullalove followed up her 100m backstroke bronze by winning silver over 200m.
Joseph Hulme won 200m backstroke silver and double Olympian Andrew Willis was edged into third place by just one-tenth of a second in a close-fought 200m breaststroke final.
The two other gold medals during the week went to Chris Walker-Hebborn, who was fastest in both the 50m and 100m backstroke.
University of Bath students also impressed in the Target Tokyo finals for aspiring 2020 Olympians over the weekend. Butterfly specialist Thomas Sinclair, who studies Economics and is supported by a Bill Whiteley Scholarship, was runner-up over 50m and third over 100m, while International Development with Economics student Emily Siebrecht, a Santander Sports Scholar, was third in the 200m individual medley.
Want to swim in the same 50m pool as British champions and Olympic medallists? Click here for details of public SwimFit sessions at the Sports Training Village.