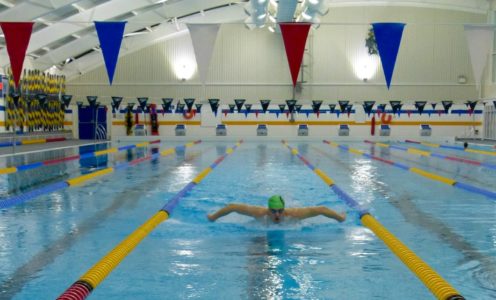 Olympic medallists Chris Walker-Hebborn and James Guy won their second titles in as many days as University of Bath-based swimmers continued to impress at the 2017 British Swimming Championships in Sheffield.
Jazz Carlin, who won two silvers at Rio 2016, also picked up her first gold of the week as the British Swimming National Centre Bath elite training group added to their national medal collection.
Guy (pictured), who moved to the Sports Training Village at the turn of the year, produced an outstanding performance to lead the 400m freestyle final from start to finish, setting the consideration time for this year's World Championships in the process. MJ Church sporting ambassador Jay Lelliott, who studies Sport Performance, narrowly missed out on a medal in fourth.
"I swam my own race with my own tactics and luckily it paid off," said Guy. "The World Championships are the main target for me this year. I know I have so much more to give and I can't wait."
Guy, coached by Jol Finck, produced another strong performance the following evening to win 200m butterfly gold in a personal best time of 1:55.91, despite problems at the start of the race.
"When I dived in my goggles leaked and my hat started coming off, so to come away with that gold is great," he said. "It's not my main event but it helps my 200m and 400m freestyle because it's an endurance and stamina event. By doing some more fly training, it gives me extra power in the pool and I actually enjoy racing it.
"I do have a busy week but it's what we train for. We do a lot of work for those few minutes in the pool. I am excited for the rest of the week."
Backstroke specialist Walker-Hebborn has also had a busy but successful start to the week, winning gold over 50m on Tuesday and 100m on Wednesday. Training partner Joseph Hulme was fourth in the latter final.
Carlin, coached by Dave McNulty in the London 2012 Legacy Pool, followed up her 200m freestyle bronze on the opening night with gold over 800m on Wednesday.
"When you aren't feeling great the 800m is a sore one but it's obviously great to come away with the win and it's great to race the best in Britain," she said.
"After the highs of Rio it's always tough to get back into the swing of it. It has been a tough few months but it's nice to come here and race and the crowd are really getting behind the athletes.
"Rio was in my mind for so long and when that's done it's like 'what's next'. Tokyo 2020 will come and fly by so I'm really looking forward to getting stuck back into training now."
Jess Fullalove won a bronze medal in the women's 100m backstroke behind Olympian Georgia Davies.
Charlie Attwood and double Olympian Andrew Willis, a Chemical Engineering graduate at the University of Bath, were fifth and sixth respectively in a 100m breaststroke final won by Adam Peaty. Attwood was also fifth in the 50m breaststroke.
International Development with Economics student Emily Siebrecht, supported by a Santander Sports Scholarship, reached the final of the 400m individual medley, finishing sixth.
As well as the main medal races, there have also been Target Tokyo finals for swimmers aspiring to compete at the next Olympic Games.
Sport & Exercise Science student Tom Derbyshire – supported by a British Swimming National Training Centre scholarship – recorded a fine victory in the 400m freestyle, with National Centre Bath training partner Cameron Kurle finishing third.
Chemistry student Luke Davies was runner-up in the 100m breaststroke and took third place in a photo-finish to the 50m breaststroke final, while Georgina Boyle was also third in the 200m freestyle.
The British Swimming Championships are running until Sunday. You can watch the action live on the British Swimming YouTube site by clicking here.
Want to swim in the same pool as Olympic medallists and British champions? Click here to find out more about our public SwimFit sessions.