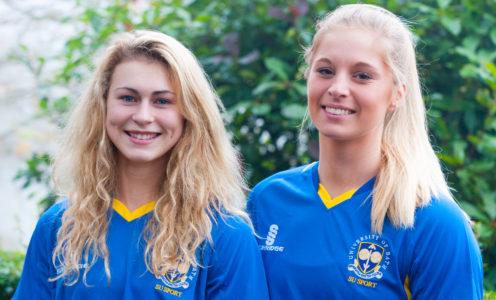 Four crews will represent the University of Bath at the 2017 Henley Royal Regatta this week, including its first-ever women's crew to qualify for the world-famous event.
Management Masters student Steph Clutterbuck and Laura Macro, who studies Sports & Exercise Science, successfully came through the qualification regatta to take their place in The Women's Double Sculls competition.
It capped a great week for the duo, supported by Santander and Matrix Sporting Scholarships respectively, who won the Rosie Mayglothing Trophy at Henley Women's Regatta and were also selected for next month's European University Rowing Championships along with fellow student Carlotta Broglia.
Clutterbuck and Macro, coached by Dan Harris on the University-based GB Rowing Team Start programme, will face the experienced Dutch double of Roos de Jong and Marloes Oldenburg in their opening race this week.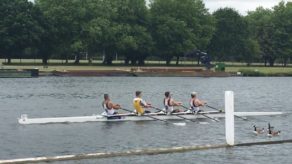 Bath University Boat Club will also face an overseas challenge in The Temple Challenge Cup, with the men's eight being drawn against a King's College Queensland crew from Australia in their opener on Wednesday.
Tom Bowles, Will England, Marcus Lewis, Ben Pickford, Matt Moore, Matt Horsford, Charlie Parker, Henry Jones and cox Dan Baillache are in the eight, coached by Tony Larkman.
A University and Minerva Bath RC composite men's quadruple scull of Luke Gwenter, Goldsmith Sporting Scholar Nick Bell, Jens Hullah and Tom Mapp will contest The Prince of Wales Challenge Cup, facing Christiania Roklub of Norway in their first race.
Sport & Exercise Science graduate Sam Courty, wearing the Blue and Gold of the University, will team up with fellow GB Rowing Team squad member Caragh McMurtry in The Women's Pair. They have been drawn against New Zealand's Grace Prendergast and Kerri Gowler, both of whom raced at the Rio 2016 Olympic Games and have set the fastest time in the world this year.
Biology graduate Sara Parfett, fresh from winning her first senior World Cup medal in Poznan, will compete in the Remenham Challenge Cup with the GB Rowing Team women's eight, racing as a Leander Club and University of London composite.
Click here to find out more about the world-class rowing programme at the University of Bath.
Watch live coverage of Henley here…