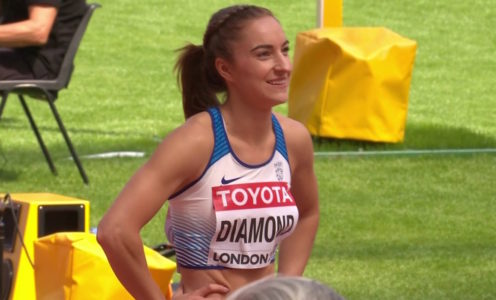 There was frustration for Emily Diamond and David King at the London 2017 IAAF World Athletics Championships on Sunday as both were edged out in the first round.
However, University of Bath graduate Jack Green was able to overcome a mistake on the back straight to secure his place in Monday's 400m hurdles semi-finals.
Diamond, coached remotely at the Sports Training Village by Jared Deacon, had to settle for fifth place in a tough 400m heat that was won by Rio 2016 Olympic Champion Shaunae Miller-Uibo.
"It's a difficult one," said Diamond, whose time of 52.20 was not quite enough to secure a fastest loser place in the semi-finals.
"My training has been going really well and I feel like I gave it everything I could in that race but with 40m to go I just had nothing left in me. I was pushing so hard for the line and my legs just felt a million times heavier than they normally are.
"You have good days and bad days – in 400m you can run 51.6 or 52.2, which seems like a big difference time-wise but is actually just a few steps here and there that you don't quite hit perfectly."
Diamond still has strong medal hopes in the 4x400m relay, the event in which she won Olympic bronze in Rio last year. Also in the relay team is fellow University of Bath-based athlete Eilidh Doyle – the British Athletics team captain, coached by Brian Doyle, starts her 400m hurdles campaign in heat 4 at 7.57pm on Monday.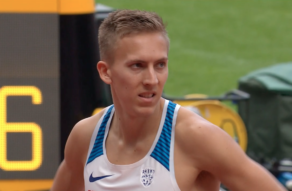 That will be followed at 8.30pm by the men's 400m hurdles semi-final featuring Sport Performance graduate Green, who came through his heat on Sunday as a fastest loser.
He was well placed for automatic qualification after an impressive first 300m but hit a hurdle coming off the final bend and lost his momentum, meaning he was edged into fifth place by two-thousandths of a second. However, Green's time of 49.55 was quick enough to take him through to the last 24.
"I'm in really good shape – I'm in a little too good shape, which was why I hit hurdle eight!" said Green, who is self-coached but supported by James Hillier.
"I was ready to go and I got too close, that's never happened before. It's a nice positive – I'd rather be too close knowing that I can run faster than stretching and messing it up that way."
In the 110m hurdles heats, MJ Church ambassador King also got off to a strong start before losing his rhythm after hitting a barrier. He had to settle for eighth place in 13.67 but can still reflect on an excellent season in which he was crowned British Champion and made his debut at a major senior global championships.
"I was executing fairly well until hurdle four or five, then I clattered one and clattered the rest of them from there on," said the Sports Performance graduate, who is coached by Hillier at the Sports Training Village.
"It's really disappointing because in my races in the past I've struggled with the front end of the race and the back end had been fairly good, so it was the opposite – I had a really good start but then messed it up.
"I don't know if I just got a bit excited – I felt like I was up there and in a good position to qualify for the semis. Maybe I just got a little bit ahead of myself and was rushing it."
Andrew Pozzi, who trained at the University for seven years until March, won his heat but missed out on a place in the final after being edged into fourth.
Click here to find out more about the athletics programme at the University of Bath.