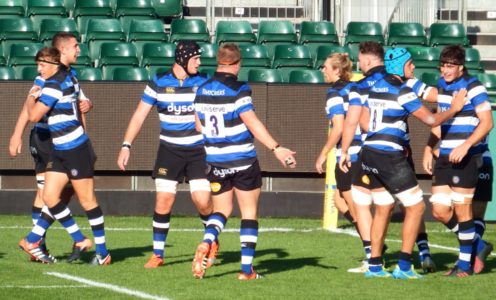 Team Bath and Bath Rugby have agreed a partnership that will connect their delivery of performance rugby and player development.
The new arrangement will focus on shared coaches and a cohesive training programme for the Bath Academy and University of Bath, with a specific emphasis on the BUCS Super Rugby programme and developing the coaching and analysis provision for players within the University.
Both organisations will aim to provide a coordinated training and competition environment which allows players to excel and progress along a pathway, whether they are students at the University or members of the Bath Academy programme.
A clear focus on aligning principles and objectives between the organisations and deploying professional staff and services between programmes has led to the beginning of what both parties feel can become a high-performing partnership.
Bath Rugby Academy and the IKON Construction-sponsored University of Bath will be seeking a step-up in performance as a result of the arrangement which sees University of Bath Assistant Coach Mark Lilley moving to a new role of Academy Pathway Coach with Bath Rugby. Louis Messer also joins Bath Academy as a Pathway Coach and will be deployed with Lilley to compete the University's coaching team with Head of Rugby Aaron James for the upcoming season.
The two coaching teams have been working ever more closely since the arrival of Andy Rock as Bath Rugby's Academy Manager and the partnership feels like a natural progression. Rock and Stuart Hooper, Bath Rugby's Performance and Player Development Director, will support the partnership and work alongside James and University of Bath Deputy Director of Sport Greg Sharp.
Several University students have recently turned out in the Blue, Black and White of Bath Rugby, including 13 for the United XV in last week's A League match against Saracens Storm, and famous rugby alumni like Steve Borthwick studied at the University.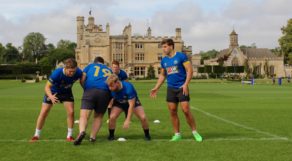 University of Bath Deputy Director of Sport Greg Sharp said: "We see this partnership as being of significant benefit to both partners. Our University rugby programme is flourishing, with the advent of the Super Rugby competition for the nation's top nine Universities. We have also had success at 7s level nationally and have begun to develop players for Bath, while three of our female rugby alumnae recently played in the Women's Rugby World Cup Final for England. This partnership therefore makes logical sense as well as being one with exciting potential."
Commenting on the partnership, Bath Rugby Academy Manager Andy Rock said: "There is strong evidence that some players develop later and we will actively work with the University to develop their Super Rugby squad alongside our Academy which, in turn, could produce vibrant, new talent for Bath Rugby.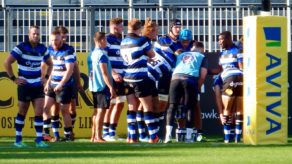 "This will be part of a complete pathway for Bath Rugby which begins with the Developing Player Programme for players aged 13 and now covers the whole spectrum of ages up to 21 years. The importance of high-performing partnerships has never been more important, both for developing talent in rugby terms and in supporting high-quality education. Through our partnerships with The University of Bath and Beechen Cliff School, as well as wider school relationships in the region, we can drive a programme which will allow personal and professional development off the field to complement the on-field and rugby specific development that our players need."
Stuart Hooper, Player and Performance Director at Bath Rugby, added: "At Bath Rugby, we are delighted to be entering this working partnership with the University of Bath. We are passionate about a pathway that enables players to develop both on and off the field. It enables an exciting opportunity for our coaches to work with the university's rugby department and create a fully embedded working relationship to aid the development of everyone involved."
The University of Bath's first game of the 2017-18 BUCS Super Rugby season is against Leeds Beckett University at the Sports Training Village on Wednesday, September 27 (6.30pm). Admission is free.
Click here for more information about the thriving rugby programme at the University of Bath.