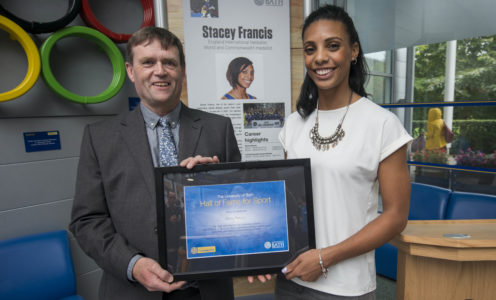 England international Stacey Francis, a five-time Superleague winner with Team Bath Netball, today became the latest inductee into the University of Bath Hall of Fame for Sport.
The ceremony took place as part of celebrations to mark the University being named as the 2018 Sports University of the Year in The Times/Sunday Times Good University Guide, with staff from all departments turning out to congratulate Francis on her induction and to be thanked for their hard work in securing the award.
Francis epitomises much of the sporting experience at the University of Bath – as well as developing into a world-class performer for club and country under the guidance of Team Bath coaches, she studied Sports Performance and has gone on to enjoy a successful career both on and off the court.
She also helped to shape the current elite training environment at the £30million Sports Training Village through her role with the then-fledgling Athletes' Forum, which continues to represent the needs of sportspeople using the facilities to maximise their potential.
"When you play in team sport you don't achieve success on your own, so to have my individual contribution recognised like this is huge to me," said an emotional Francis.
"My time here at Bath was fantastic and as I was driving in today it felt like coming home. I spent more than a decade here. Bath made me the player I am today and I take it with me wherever I go.
"To be inducted alongside other great athletes like Pamela Cookey, who is an absolute legend, and for it to take place in front of friends, family and so many familiar faces is fantastic."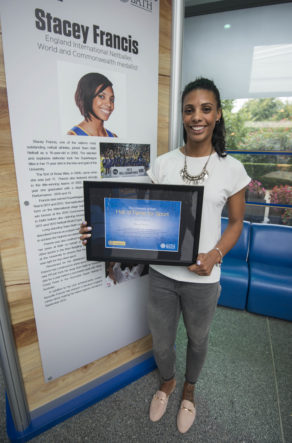 Francis, an explosive defender with a relentless drive to succeed, joined Team Bath Netball as a 16-year-old in 2005 and helped them win the first-ever national Superleague competition the following year.
She was involved in all five of Team Bath's title successes to date – the others coming in 2007, 2009, 2010 and 2013 – and was named as Superleague Player of the Year in both 2011 and 2013.
Francis made her senior England debut in 2010 and won bronze at that year's Commonwealth Games in Delhi, India, before helping her country to further bronze medals at both the 2011 and 2015 Netball World Cups.
She currently plays professionally for West Coast Fever in the Suncorps Super Netball competition in Australia and New Zealand, and is part of the England squad working towards the 2018 Commonwealth Games on the Gold Coast.
Inducting Francis into the Hall of Fame for Sport was Steve Egan, Vice-President (Implementation) for the University of Bath.
"I can genuinely say it is a great pleasure to induct Stacey as she has played a large part in the success of Team Bath Netball, a team that is very close to my heart," he said.
"Stacey is one of the world's best netball players with 66 senior England caps and counting. She has won medals at the Commonwealth Games and Netball World Cups, and let's hope she can add to that in Australia in 2018 – we will definitely be watching.
"Here at the University of Bath, we are proud of our netball heritage and our record of developing players. Bringing young players through the performance pathway and seeing them enjoy their netball is a really strong part of the ethos and culture of Team Bath Netball."
Among those watching the induction ceremony was Sara Bayman, a team-mate of Francis for both Team Bath and England during the past decade.
"Stacey is renowned as one of the hardest trainers in netball and you always want to be as good as her, so she definitely pushes every team she's in to train hard and improve everyday," said Bayman.
"A few people from netball are in the Hall of Fame now and that's really cool. [Coach] Lyn Gunson deservedly went in first because she created what is Team Bath Netball, now Pam and Stacey are in it. It's nice to see that it's being recognised for the success that it's had and that past players are able to come back and still call this place home."
The Hall of Fame for Sport was established in 2014 to celebrate the high-performance athletes, coaches and staff who not only excelled in their sport while at the University of Bath but also made key contributions to the STV environment and continue to act as ambassadors for the University and Team Bath.
Francis is the 21st inductee and the third from netball, joining Cookey and coaching legend Gunson. Other Hall of Fame members include Olympic and Paralympic Champions Amy Williams (skeleton), Jason Gardener (athletics), Heather Stanning (rowing), Sascha Kindred (swimming) and Dr Stephanie Cook (modern pentathlon).
Click here for more information about the Hall of Fame for Sport.