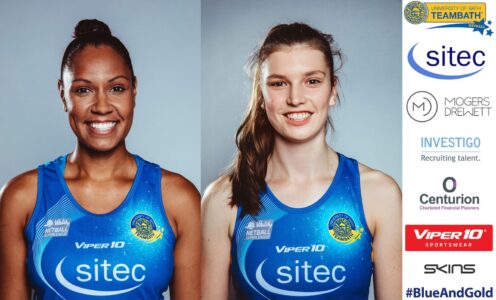 Josie Janz-Dawson and Sophie Drakeford-Lewis are two new talents announced as joining Team Bath Netball today as tickets go on sale for the Blue and Gold's 2018 Vitality Superleague home matches.
Fans will be able to see them and a host of returning and other stars at the Team Bath Arena that will feature a new reserved-seating format, largely dispensing with the need to queue at the venue on match nights.
Current season-ticket holders will also have chance, for a limited time period, to renew for 2018 at the prices they paid last season. Click here to find out how to buy your tickets.
Team Bath, sponsored by Sitec, open at home with a potential sizzler against Surrey Storm on February 23 after two earlier away rounds against Team Northumbrian and Celtic Dragons.
The Storm match will be the first using the new Team Bath Arena format at the University of Bath Sports Training Village. Supporters will be able to choose their row and seat number when buying tickets. The guaranteed seat gives people greater flexibility in their arrival time, the chance to watch the pre-match entertainment and more opportunity for pre-match refreshments and shopping experiences.
Team Bath will also host Sirens and Manchester Thunder, as well as visit local rivals Severn Stars and Loughborough Lightning, before the Superleague takes a mid-season break in March for the Gold Coast 2018 Commonwealth Games.
Domestic action will resume on April 22 when Team Bath travel to Coventry to face defending champions Wasps in a TV fixture. The return fixture at the Team Bath Arena is on the penultimate weekend of the regular season, with the Blue & Gold concluding their campaign at Manchester Thunder on June 23.
The semi-finals, played at the home venues of the top-two teams, will take place on the weekend of June 29-30 before the new Superleague champions are crowned at the Grand Final on Saturday, July 7 – Team Bath will be hoping it is them for a record sixth time.
Exciting new arrivals
Anna Stembridge, Team Bath Netball Superleague Head Coach, said: "We are already into full pre-season training and the players are working hard to be the best they can be. They can't wait to take to the court and love the support from the fans. There is a buzz around this squad and we know that if we focus on what matters, game by game, we will be a top contender this season once more.
"We are very happy with the recruitment of our 2018 squad, having retained the core group from 2017 and graduated a number of athletes from our pathway while adding a couple of last year's most exciting performers from the league.
"I'm delighted to have the opportunity to work with both Sophie and Josie. Sophie definitely was one of the most exciting young talents in the league last year, having exploded onto both the Superleague and international scene in her debut season.
"Josie, one of the 2017 league stand-out performers, is coming to us with a wealth of experience having previously played in the professional ANZ competition with West Coast Fever – she partnered Eboni Beckford-Chambers in the defensive circle for a number of seasons. We are very much looking forward to building upon these experiences within our environment."
Australian defender Janz-Dawson, who spent the 2017 campaign with Severn Stars, added: "I'm extremely excited about joining Team Bath and look forward to building on past combinations, having previously played with Eboni for three years in the ANZ Championship, while also helping to nurture the up-and-coming young talent.
"We have a great mix of experience and youth in our playing squad but, more importantly, the right people in this club to support our players individually to grow as athletes and young women.
"Anna and Jess Thirlby have put a lot of thought into planning the bigger picture for the players, support staff, fans and wider community, and I'm blessed to be a part of this club heading in a positive direction. I cannot wait to hit the court with my team-mates."
Rising shooting star Drakeford-Lewis, who started an Integrated Mechanical & Electrical Engineering degree at the University of Bath last month, made her senior England debut in last week's Netball Europe competition and helped the Roses retain the title. She also shone for Hertfordshire Mavericks in the Superleague last season.
Team Bath Netball Head Coach Thirlby added: "It's always exciting to welcome new players to the team and when they are of the calibre of both Sophie and Josie then we know we are onto good thing.
"We know the consistency of our playing group season on season is critical in achieving success and we've retained a large percentage of the 2017 team but its vital that we scrutinise all areas of the court and add a sprinkling of freshness to find that extra dynamic, hopefully edging us closer to our season objectives."

How to buy your tickets
Home matches in 2018 will begin at 7.30pm, apart from the televised games against Severn Stars (5pm) and Team Northumbria (7pm), and doors will open one hour before centre-pass.
Tickets when purchased in advance are priced £13.50 for adults, £8.50 concessions and £5 for students, each increasing by £2 if bought on the day of the game. Family tickets, for two adults and two children or one adult and three children, remain at last season's price of £35.
Season tickets are priced £85 for adults and £55 concessions, equating to nearly three free matches over the course of the year, and include access to a special pre-match reception with the Superleague players and coaches during the season.
Supporters who had a season ticket during the last campaign can renew at the 2017 prices of £75 and £50 by purchasing before October 30 using discount code ST18.
To buy tickets or for more information, visit www.teambath.com/ticketline or call 0844 888 4412.
Click on the image below to find out more about the new Team Bath Netball matchday experience for 2018.
Team Bath Netball are sponsored by Sitec and supported by partners Mogers Drewett and Investigo. Centurion Chartered Financial Planners are supporting the team's performance analysis capabilities, Viper 10 are their Sportswear Supplier and Skins provide the team with compression wear.