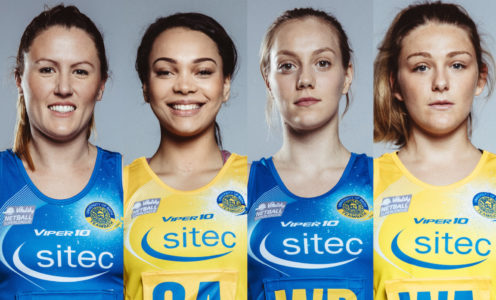 Asha Francis, Paige Reed, Abi Robson and Jazz Scott are the latest players confirmed in the Team Bath Netball squad for the 2018 Vitality Superleague season.
All of them are graduates of the Blue and Gold's prolific performance pathway, which has expanded this season to include a network of Academies and Hubs for players right across the South West.
Heading up the new Futures Pathway will be Lois Rideout, a former Team Bath Superleague player and University of Bath student who has returned to the Sports Training Village as Academy Head Coach.
She started in her new post this week, having worked in a similar role for Welsh Netball during the past year, and is excited about the challenge ahead.
"Ultimately I want to create a successful pathway into the Superleague squad and also create international athletes," said Rideout, who studied Coach Education & Sports Development.
"I've had that experience myself as a player, of coming through the ranks into the Superleague, and it wasn't that long ago so I know what worked and how we can continue to improve on that.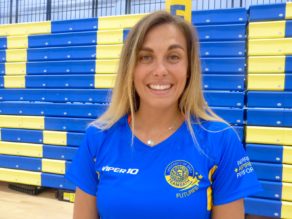 "I love being back in Bath because I have so many fond memories here and it's great to see so many familiar faces, not just in the netball office but throughout the Sports Training Village. It feels like coming home."
Rideout will coach at the Bristol Hub, based at SGS College in Filton, and at the Bath Academy with Asha Francis and Team Bath Netball Head Coach Jess Thirlby, as well as oversee the delivery of the Futures Pathway programme at the University of Exeter, Bryanston School in Dorset and Truro & Penwith College in Cornwall.
"I will be travelling around to see how they are getting on, helping out with training sessions and mentoring coaches," she said. "I'll also be putting on coach education courses and organising training camps for players right across the South West.
"It's a new role so I am sure we will adapt things and mould the position along the way but it's everything I know so I am feeling good about it.
"My last role was as Performance Officer for Welsh Netball where I oversaw the academies and development programmes, so it is a similar brief to my new post. I was mentored by [Wales Head Coach] Trish Wilcox and worked alongside her with the U17, U21 and Senior teams, which was a great experience."
Robson is the latest player to progress through the Blue & Gold ranks into the Superleague squad. The 18-year-old, who can play wing-defence or centre, has represented England at U17 and U21 level, helping the latter successfully defend their Netball Europe crown earlier this year.
University of Bath Sports Performance graduate Scott, who plays centre and wing-attack, is named in the Superleague squad for a third successive season and went to school at King Edwards School in Bath while Francis – captain of the title-winning team in 2013 – will combine playing with coaching the Academy and students teams.
England U21 international Reed, who is taking a gap year from her studies, broke onto the Superleague scene last season with impact in attack. She came into the Team Bath age-group set-up from Hartpury.
Thirlby said: "It's totally appropriate to name these four players on a day when we also reveal the Academy Head Coach. We have a strong history of developing players into the Blue and Gold squad and from there onto the international scene. These four players carry on that golden thread.
"We are also delighted to welcome Lois back and into a new role. We are confident that she will help us continue to make a step change in the development of players across the region for the benefit of the whole of the sport of netball.
"As a graduate of the University and a former player, Lois can help shape our playing environment and understands the demands on players who become role models for other young women at a time when they are juggling conflicting demands of studying and playing sport a high level."
Fifteen players have now been named in the Blue and Gold Superleague squad for the 2018 season, which gets under way in February.
Next week will see the launch of the full squad with images depicting the West Country which the team are so proud to represent on the national stage.
Team Bath Netball are sponsored by Sitec and supported by partners Mogers Drewett and Investigo. Centurion Chartered Financial Planners are supporting the team's performance analysis capabilities, Viper 10 are their Sportswear Supplier and Skins provide the team with compression wear.
Tickets are selling well for the nine home fixtures at the Team Bath Arena, which for the first time in 2018 will feature numbered seats that can be selected in advance – click here to view the fixture list in full and buy tickets.