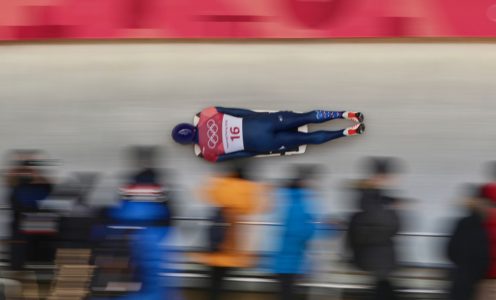 University of Bath student Dom Parsons is firmly in contention to win Team GB's first medal of the PyeongChang 2018 Winter Olympic Games after an excellent first day of competition in the men's skeleton.
Parsons, who combines his sport with a PhD in Mechanical Engineering, lies just three-hundredths of a second outside the medal places after setting a rapid combined time of 1:41.26 from his two runs on Thursday.
Fellow Brit Jerry Rice, who also trains at the University of Bath with the British Bobsleigh & Skeleton Association (BBSA), is 12th and in the mix for a top-ten finish on his Olympic debut.
South Korea's Sungbin Yun leads the way on his home track, seven-tenths of a second clear of Nikita Tregubov, an Olympic Athlete from Russia, with Latvia's Martins Dukurs just ahead of Parsons in the bronze-medal position.
The final two heats will take place on Friday (12.30am and 2.15am GMT), with Parsons determined to stay focused on the task at hand.
"It's what I've been working on for the last four years but let's not get ahead of ourselves too much, I'll just focus on the next two runs first," said Parsons, who has been training and studying at the University of Bath since 2007, is a Santander scholar, and is supported by the Team Bath Dual Career programme.
"I'll just make sure I've done all the work I need to do before I try to switch off and use something to distract me, a TV show, reading a book or whatever."
Parsons also feels there is plenty of room for improvement on Friday, adding: "I overdrove a couple of bits on the first run and went a bit offline but the second run was much tidier. I'm still a bit disappointed because my start was not quite where I wanted it to be."
Rice, who set a combined time of 1.42:21 on Thursday, said: "I've got a bit more to give on the start. I was struggling in training but I've put down two solid runs and it's about consistency."
Team Leader Andi Schmid was pleased with the opening day, saying: "It's a very positive start for us. It's only the halfway mark but we're in a good place. We've put a solid platform in place to build on tomorrow.
"Dom is very close to the medals and that's very encouraging. His second run was outstanding. He made a few minor mistakes in his first run but he is looking good so far. I'm really pleased with how he has performed.
"It's also an encouraging start for Jerry, to be so close to the top ten at his first Olympics.
"It's a big boost for the whole team. We've made sure we haven't been distracted by anything away from sliding. We've worked incredibly hard for the last years and we're in a good place.
"We won't be getting carried away, though. There's still two more runs to come and we know that we will need to produce again tomorrow."
British skeleton athletes train on the outdoor push-start track at the University of Bath, the only facility of its kind in the UK, and also use the Sports Training Village's high-performance gym and sprint tracks. Click here for more information.
Picture credit: David Davies/PA Wire/PA Images