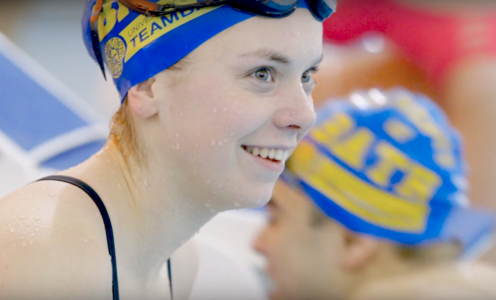 The University of Bath student swimming squad will once again be represented on the global stage when Anna Hopkin and Miles Munro compete at the Gold Coast 2018 Commonwealth Games.
Both combine their studies – in Sport & Exercise Science and Integrated Mechanical & Electrical Engineering respectively – with an intensive but supportive training programme at the University's world-renowned Sports Training Village, using the Olympic-sized London 2012 Legacy Pool and the state-of-the-art Team Bath Gym.
They, along with their fellow student-swimmers on the thriving programme, also have access to leading physio and sport science support, as well as lifestyle support and advice through the Team Bath Dual Career programme and potential scholarship funding. The Sport Training Village is at the heart of the University campus, meaning they are just a short walk away from the library and lecture theatres.
The squad trains under the expert guidance of Head of Swimming Mark Skimming and Assistant Coach Andrei Vorontsov – both have developed swimmers to Olympic, Paralympic, World, Commonwealth and European level, and are dedicated to ensuring each member of their training group maximises their potential both in the pool and academically.
You can find out more about the student-swimming programme in this video…
If you are interested in combining study and swimming at the University of Bath, click here for more information or email Mark Skimming.

Current and potential student-athletes can now apply for the 2018-19 Dual Career and Sports Scholarships programmes – click on each for further details.