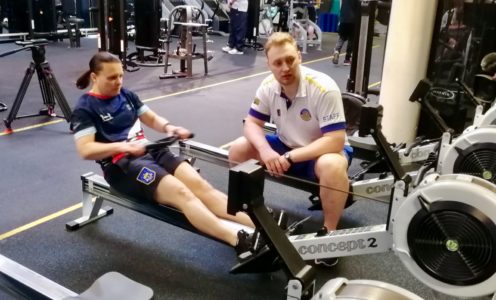 Team Bath strength & conditioning coach George Studd has been working with the National Osteoporosis Society (NOS) on a campaign to boost awareness of exercising with the bone-weakening condition.
George (pictured with Invictus Games athlete Kelly Ganfield) was asked by Sarah Legg, a physiotherapist at the Royal National Hospital For Rheumatic Diseases in Bath, to attend an Exercise Expert Steering Group Meeting for a paper that is being published by the NOS.
"A lot of the work had been research-based, so I was invited to advise on the practical side of exercise selection and to give feedback as somebody with a specific background in exercise," he said.
"Following the working group I have been working with the National Osteoporosis Society to help evaluate and write some of the exercise tables for the paper.
"Moving forwards I will be helping to produce some of the public-facing information resources that will be targeted towards helping the public become more active with osteoporosis.
"A lot of it is about making fairly small changes to your fitness regime, like changing to multi-joint exercises and streamlining your choice of routines.
"It has been an interesting programme to be involved with and I'm looking forward to it being a campaign that will have a big impact going forward."
Osteoporosis is a condition that develops slowly overall several years and weakens bones, making them fragile and more likely to break. It affects more than two million people in the UK.
For more information about the National Osteoporosis Society, visit nos.org.uk.