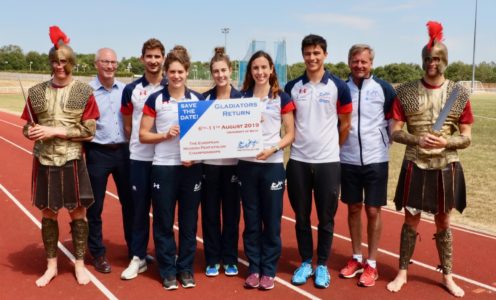 Just as Pentathlon GB's current crop of world stars leave for this year's European Championships in Hungary, they are already looking forward to enjoying home advantage at the same event next year when Tokyo 2020 places will be up for grabs.
The National Lottery funded 2019 European Modern Pentathlon Championships will take place at the University of Bath, home of Pentathlon GB's National Training Centre, from August 6-11, 2019.
The Championships, dubbed "Gladiators Return", will see the best modern pentathletes from across Europe descend on the former Roman Spa town which also played host to the 2015 Championships where Joe Choong and Kate French both bagged Rio 2016 qualifying slots for GB.
MJ Church ambassador Choong, who graduates from the University of Bath in Mathematics next week: "This is great news. It was the best feeling ever in 2015 and competing at home definitely helped. As I came around the last lap I could hear the crowd screaming and I thought that no-one was going to get past me because of that.
"I have really good memories of an excellently-run event in 2015 which set me on the road to Rio. Let's hope we can have more of the same in 2019 and wow the spectators with the sport I love."
French – winner of World Cup gold last month and, like Choong, a recently-crowned British Champion and former Bath student – added: "I can't wait to compete in front of a home crowd again. We had a great atmosphere for the Europeans in 2015 and I'd encourage anyone who hasn't seen our sport before to come along. It's a tough sport, with five disciplines, and can get very tense in the final stages."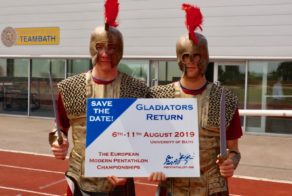 Modern pentathletes are often seen as "super-athletes" with their skills tested in fencing, swimming, riding and then laser run, a combined running and shooting element. Laser pistols are used bringing the sport, which was so close to the heart of modern Olympic founder Baron Pierre de Coubertin, fully into the modern era.
More than 100 leading athletes from across the continent will be in action in Bath. The strength of the field was demonstrated in the women's event in 2015 when London 2012 Olympic Champion Laura Asadauskaite stood on top of the podium with 2008 Beijing Champion Lena Schoneborn taking bronze. France's Elodie Clouvel was pipped to the line to take silver in 2015 before going on to take World and Olympic silver a year later.
Tickets for the event, which will feature men's and women's individual competitions as well as men's, women's and mixed relays, will go on sale in Autumn 2018. Team Bath's Sports Training Village will be transformed into spectator arenas for all five disciplines, including the show-jumping. There will be interactive opportunities to try the sports involved and other attractions for spectators – providing a great family day out.
Event Director Johnny Davis said: "It is not every day that live Olympic sport is on the doorstep and this is a great opportunity for local people to join those coming from around the country to cheer our athletes on. This is a crucial event for Europe's top pentathletes as well as being an exciting spectacle."
Stephen Baddeley, Director of Sport at the University of Bath, added: "The University is home for Pentathlon GB's elite squad and we are delighted to work with the sport to host such an important event on the calendar.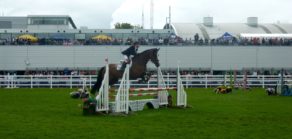 "Modern pentathletes, many of whom also study at the University, are incredibly high-achieving athletes because of the number of disciplines they need to train towards every day. Theirs is a fascinating sport to watch and this event will rekindle all the excitement of the Olympics."
Samantha Murray, London 2012 Olympic silver medallist, said she was excited by the prospect of competing in an Olympic qualifier at her home training base once more.
"It will be a fantastic opportunity for our sport to harness interest and generate new fans and potential champions of the future," she said.
"From the event in 2015 and my experience in London I know it will be a fabulous occasion for British athletes to compete on home soil in front of friends, families and supporters, and that's always an advantage."
Esther Britten, Head of Major Events at UK Sport, said: "Through National Lottery Funding, we are delighted to be supporting next year's European Championships. Events such as these provide direct performance benefits for our athletes, particularly having the home crowd cheering them on, now and all the way to the Olympic Games."