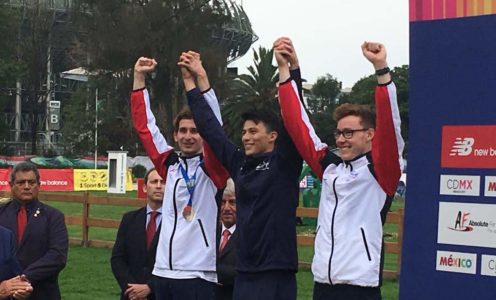 The University of Bath Sports Training Village is home to another world champion after Pentathlon GB's Jamie Cooke produced a stunning finish to take gold at the 2018 Modern Pentathlon World Championships in Mexico City.
The Rio 2016 Olympian was in contention throughout but only took the lead for the first time with his last step of an epic laser-run, out-sprinting Pavlo Tymoshchenko and Valentin Prades to become the first British pentathlete to win a world title since 1993.
"It's a dream come true to become World Champion," said Cooke. "I was really struggling on the last lap but I've worked so hard for this over the last year and put so much work in with my coaches that I wasn't going to give up.
"I just gave it everything I had and found something in my legs in the last 100m."
HAVE YOU EVER SEEN A FINISH LIKE THIS!? 🏊🏻‍♂️🤺🐎🔫🏃🏻‍♂️🥇🇬🇧

Britain's @jamiecooke_5 is modern pentathlon WORLD CHAMPION!!! pic.twitter.com/8f1Wk8wE6L

— ✌️🏊🏻‍♂️ᑎIᙅK ᕼOᑭᙓ🇬🇧✌️ (@NickHopeTV) September 13, 2018
MJ Church ambassador Joe Choong also produced a fantastic performance to finish ninth and Trendell Sporting Scholar Myles Pillage, a Biochemistry student at the University of Bath, was 34th on his senior World Championships debut.
That meant the British trio of Cooke, Choong and Pillage also won silver in the team competition (pictured top), capping a memorable and groundbreaking day for the team in Mexico.
Pentathlon GB also had three finalists in the women's competition on Wednesday, with Jo Muir placing 16th, Kate French 19th and Frankie Summers 20th.
Click here to read full reports on the World Championships on the Pentathlon GB website.
People will be able to watch new World Champion Cooke in action at the University of Bath next summer when the Sports Training Village plays host to the 2019 Modern Pentathlon European Championships – a qualifying event for the Tokyo 2020 Olympic Games. Click here for further details.