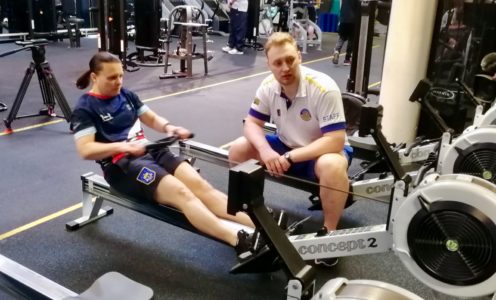 After months of training and preparation at the University of Bath, Kelly Ganfield has arrived in Australia full of confidence and excitement as she represents her country once again in the Invictus Games.
The 2018 Games – featuring wounded, injured and sick service personnel and veterans from a record 18 participating nations – are taking place in Sydney from October 20-27 and will be televised on BBC1.
It will be the second time that Army veteran Ganfield has represented Great Britain at the Games and she is hoping to bring back a medal or two after narrowly missing out on a podium place in Toronto, Canada in 2017.
"Training has gone really well and I feel stronger and better than last year," said Ganfield, who is visually impaired after suffering two strokes due to a rare blood condition called antiphosphilipid syndrome.
"Within a week of getting back from Canada last year, I was back in training because I wanted to do better this time round. I'd like to bring back at least one medal this year if I can but the main goal is to perform to my best.
"I am the only visually impaired athlete competing in the 100m, 200m and long jump, so that is going to be a challenge but I am excited to see what I can do."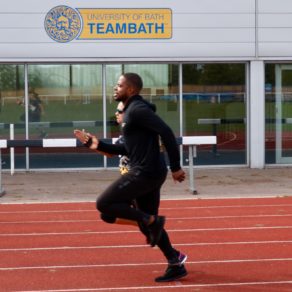 Ganfield will compete in the 100m, 200m and long jump, as well as the indoor rowing event in which she narrowly missed out on a medal last year.
"I feel like I was robbed of the gold last year because I wasn't allowed to have a guide in the rowing, telling me how much further I had to go," she said. "That put me at a massive disadvantage but I have been reassured that will be resolved this time round."
Ganfield secured her place in the 72-strong GB squad for Sydney during April's Team Trials, which once again took place at the University of Bath Sports Training Village and were attended by HRH Prince Harry and then fiancée Meghan Markle.
The Sports Training Village is home from home for Ganfield, who does her rowing training with Team Bath strength and conditioning coach George Studd in the Team Bath Gym. She also has a weekly athletics session on the outdoor track with Mikhail Huggins, who is her guide while sprinting.
BBC1 recently filmed with Ganfield and Huggins at the Sports Training Village and it will be broadcast as part of the week-long Invictus Games coverage from Sydney.