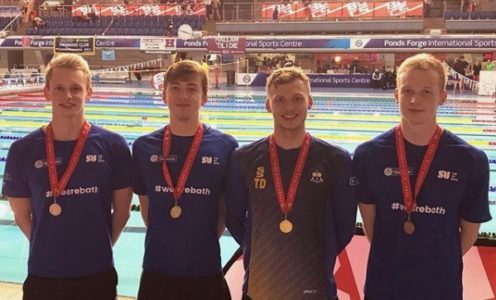 Tom Derbyshire and Luke Turley strike gold as student-swimmers at the University of Bath pick up a horde of medals at the BUCS National Swimming Championships in Sheffield.
Sport & Exercise Science student Derbyshire, who is supported through a British Swimming Scholarship and made his senior British debut at the Glasgow 2018 European Championships, took gold in the men's 1,500m freestyle with a dominant display that saw him break the 15-minute mark and win the title by a resounding 18 seconds. Team Bath's William Ryley placed third in a time of 15:22.76 to join his Blue & Gold team-mate on the podium.
Derbyshire's fine form continued in the 400m freestyle where he bagged silver in a time of 3:47.83.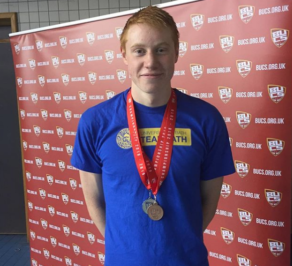 Team Bath dominated the men's 800m freestyle with a one-two finish which saw Turley, a Goldsmith Sporting Scholar, win gold after a superb swim (8:00.15) and Mathew Wright take silver (8:11.53). Both are coached by Mark Skimming and Andrei Vorontsov in the London 2012 Legacy Pool.
Santander Sporting Scholar Tom Dean – who, like Derbyshire, is part of the British Swimming National Centre Bath training group at the University – collected three medals in his debut BUCS competition.
His first silver was in the men's 400m individual medley where he achieved a quick time of 1:57.64, just missing out on gold to Max Litchfield who set a competition record. Setting a time of 4:14.56, his second silver came in the men's 200m individual medley and finally he won bronze in the 200m freestyle with a solid time of 1.45:79.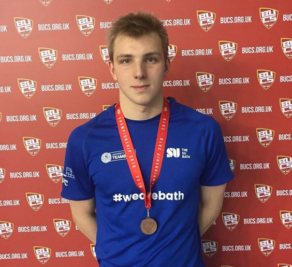 Natural Sciences student Jacob Greenow, who is also a Santander Sporting Scholar, was another Team Bath athlete to pick up a medal after winning bronze in the men's 200m backstroke event with a confident swim time of 1:56.74.
Despite missing out on a medal, Sport & Exercise Science student Filippos Iakovidis made history by breaking the Cypriot national record for both the 50m and 100m backstroke events with respective times of 25.52 and 56.47.
Find out more about the student-swimming programme at the University of Bath by clicking here or in this video…
---
Don't forget to follow @bathuniswim on Instagram for an insight into life as a student-swimmer at the University of Bath.
Pictured top: Freestyle swimmers Matthew Wright, Luke Turley, Tom Derbyshire and William Ryley were all on the podium for the University of Bath at the 2018 BUCS National Swimming Championships.