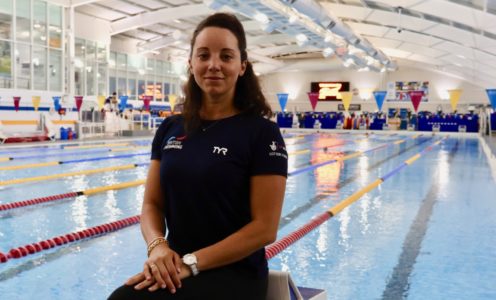 Great Britain international Ilaria Brandimarte will showcase her new solo routine when Team Bath Synchro Club stage their Christmas Show at the University of Bath Sports Training Village.
She will be joined by former GB stars, national athletes and the thriving club's talented youngsters at the festive event in the London 2012 Legacy Pool on Sunday, December 16 (2.15pm).
It is fully open to the public and Brandimarte, who made her GB debut at the Glasgow 2018 European Championships after officially becoming a British citizen during the summer, is looking forward to capping a memorable year in style.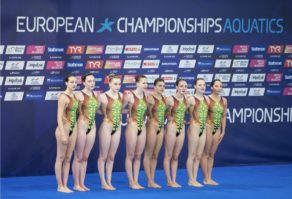 "It's a busy but exciting time," said Brandimarte, who set up Team Bath Synchro in 2016 after graduating from the University in Politics & International Relations.
"I had the GB trials recently and I have been reconfirmed as part of the national team for 2019. We have two FINA World Series – Paris in March and Madrid in May – and we are also planning to take part in the European Cup.
"There is very good potential for this season. Half of the team are making the step up to senior level and there is a very good atmosphere, people are working really hard. There is also a more expansive coaching staff this year, which is great.
"Everything is going really well in terms of competition preparation – I have received a Service Support Grant from the University this year, so have access to things like sports therapy, massage and nutritional advice which is all a big help.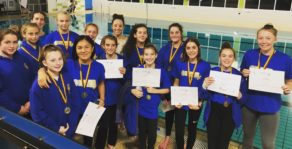 "Team Bath Synchro is developing well too. The Tribe sessions for children that we launched earlier this year are fully booked and there is a waiting list for January already. In terms of competition, we sent 15 girls to a County Championships recently and nearly all of them won a medal on the day.
"We were finalists in the Community Club of the Year category at the 2018 Bath Chronicle Sports Awards and I was shortlisted for the overall Sports Personality award, which was a great honour and tremendous recognition for our sport."
Brandimarte is determined to continue growing the sport and has set up a student synchro club at the University of Bath this year with the aim of encouraging other higher-education institutions to follow suit.
"At the moment it is a recreational club for students who want to continue in synchro or try it for the first time but we are developing towards competition as well, that is the long-term aim," she said.
"We are planning to put on quite a few shows but also host some competitions here, as well as enter University meetings in Nottingham and London. Eventually we would like to reintroduce synchro swimming at a national BUCS [British Universities & Colleges Sport] level."
To find out more about synchonised swimming at the University of Bath and the forthcoming Christmas Show, visit www.teambathsynchroclub.com.