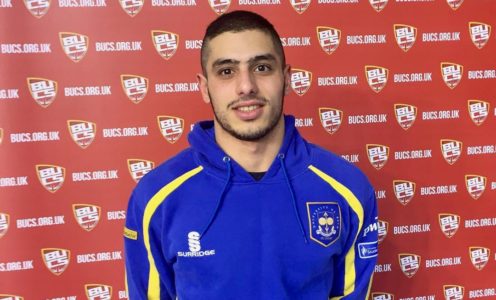 University of Bath student Filippos Iakovidis has set his sights on another national record when he represents his native Cyprus at the FINA World Short-Course Swimming Championships in Hangzhou, China.
Iakovidis, who studies Sport & Exercise Science and is supported by the Team Bath Dual Career programme, smashed his own records in both the 50m and 100m backstroke while racing for the University of Bath at last month's BUCS National Championships in Sheffield.
"I would like to set another record in China in the 100m backstroke," said Iakovidis, who is coached by Mark Skimming and Andrei Vorontsov in the London 2012 Legacy Pool.
"This is my first World Championships and it will be a really good opportunity to swim fast against some great swimmers. The aim is to gain experience and go as quick as I can."
Iakovidis, who will also race in the 100m individual medley, has previously represented Cyprus at the European Championships and the Games of the Small States of Europe.
He is in his second year at the University of Bath and says he is improving all the time after adapting to life in another country.
"I feel I have settled into a good routine this year," he said. "I'm really enjoying working with Mark and Andrei, I have really noticed progress in my performances and they have been very helpful and supportive with my studies too."
The 2018 World Short-Course Championships are taking place from December 11-16.