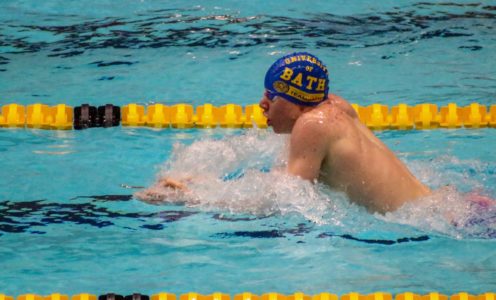 Mechanical Engineering student Tom Dean is among seven University of Bath-based swimmers who have been selected in the British Swimming squad for this summer's World Championships in Gwangju, South Korea.
MJ Church Ambassador Dean, who is also supported by a Bill Whiteley Sports Scholarship as he balances sport and study at the highest level, joins reigning World Champions James Guy and Calum Jarvis – a Sports Performance graduate – in the 25-strong squad.
World and Olympic medallist Siobhan-Marie O'Connor is also selected for her 11th major international competition, while Georgia Coates, Jessica Fullalove and Cameron Kurle – plus coaches David McNulty and Jol Finck – complete the British Swimming National Centre Bath representation.
There is also a call-up for Sport & Exercise Science graduate Anna Hopkin, who was coached by Mark Skimming in the University's performance swimming squad until last summer.
All of them earned their selection after impressing at last week's British Swimming Championships in Glasgow, where Fullalove, Guy, Hopkin and O'Connor all struck gold – click here for a full report.
This year's World Championships – taking place from July 12-28 – are a major stepping stone towards the Tokyo 2020 Olympic Games and GB will be looking to set the qualification standard for the relays.
British Swimming National Performance Director Chris Spice said: "We had another great British Championships in Glasgow where we saw some exceptional individual performances from our established group of senior swimmers.
"The selectors were also pleased to see that some younger athletes have grabbed the opportunity that we gave them at last year's Europeans to step up and make this team. We saw superb lifetime bests from Luke Greenbank, Tom Dean, Anna Hopkin and Jess Fullalove that really built on those performances from last year.
"As we look towards Tokyo, the challenge now for the whole team is to move this on in the summer and swim a season's best under the spotlights in Gwangju."