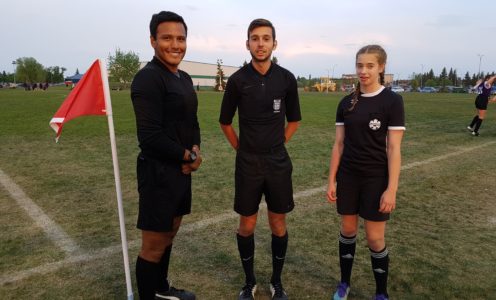 University of Bath student Fabio Roque gained international football refereeing experience when he was selected to officiate at tournaments in the United States and Canada.
The Sport & Social Sciences student, whose travel costs were partly financed by the University's Elite Athlete Fund, was among eight officials from England, Portugal and the USA for the Manchester City Surf Cup that took place in San Diego.
"I was appointed to a total of eight matches, six as referee and two as assistant, and I officiated with colleagues from various nations but mostly domestic officials from the USA," he said.
"It was a great experience to learn more about the USA football culture which has a strict zero tolerance to allowing play to continue after any head injuries. Additionally, dissent towards officials was not an issue in the USA as coaches were incredibly respectful and happy to accept my rationale behind decisions.
"The highlight of this tournament was the respect that all the coaches and officials had towards the three English referees in attendance."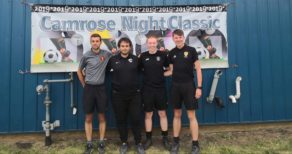 Roque and three other officials then flew north to Edmonton, Canada for the Camrose Night Classic, a junior soccer tournament played under floodlights.
"I refereed ten matches and, despite only having two days to impress the tournament appointments officer, I was appointed to the U13 boys final," he said.
"I am used to refereeing semi-professional football, which meant this lower age group did not provide too much of a challenge, but I was delighted to have gained such a high level of trust and confidence from the tournament organisers.
"I didn't make a single Key Match Error across either tournament, contributing to the positive feedback from staff and the continued prosperous relationship that allows international officials to referee at these tournaments in future."